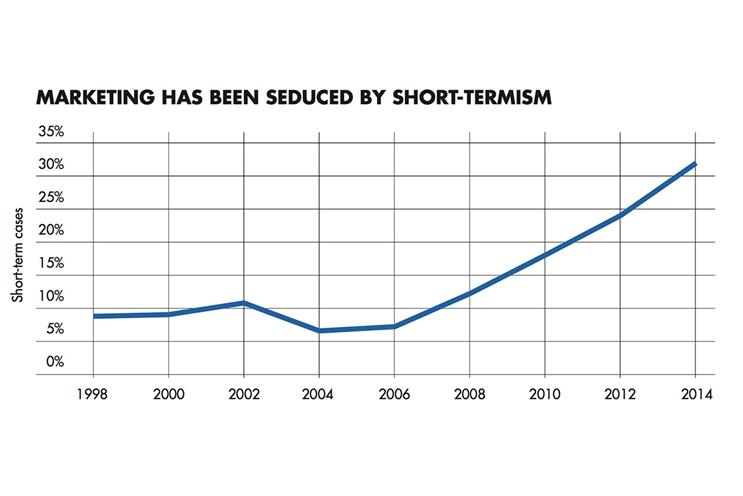 Five eventful years have passed since the last IPA report was published on the link between creativity and effectiveness. Since then, the global financial crisis and the evolving media landscape have changed the mood and practices of marketing. Creativity now finds itself in more challenging times, with its contribution to effectiveness undermined on several fronts.
The new IPA report released this week at Cannes – Selling Creativity Short (www.ipa.co.uk/SellingCreativityShort) – is based on fusing the IPA Databank of effectiveness with the Gunn Report database of global creative award wins. It compares levels of effectiveness of creatively awarded campaigns with those of non-awarded ones. With 20 years of data, the report can look at time trends in creative effectiveness. It is the trends that provide the disturbing findings of this report.
Before the global financial crisis, levels of IPA campaign effectiveness were steadily improving, in part due to the impact of new digital channels when used in conjunction with traditional ones. All campaigns benefited from these developments, but creatively awarded ones enjoyed one particular advantage. They had always been better able to generate buzz but, with the advent of video-sharing sites and social media, the ability of great campaigns to get consumers to share their enthusiasm grew markedly. Paid media was boosted by earned media and campaign exposure was enhanced by the herd effects of creative fame. Highly creative campaigns hogged the limelight ever-more strongly.
Creative effectiveness under threat
By 2010, before the effects of the financial crisis were becoming apparent in the data, the efficiency advantage enjoyed by creatively awarded campaigns over non-awarded ones stood at about 12:1. That is to say that for every unit of campaign investment above equilibrium, creatively awarded campaigns drove 12 times more market share growth per annum than non-awarded ones. The case for creativity appeared rock-solid and the omens good for further progress.
But as more campaigns rolled into the IPA Databank in the following years, it became clear that the global financial crisis had left two legacies for marketing that would significantly undermine the effectiveness of creativity.
1. Shift to short-termism
The first of these legacies is a dramatic shift to short-termism. The top chart shows how the proportion of IPA campaigns that were short-term (designed to activate sales over less than six months) grew from 7% to 33% between 2006 and 2014. The proportion of creatively awarded campaigns that were short-term rose even more dramatically to about 45%. Creative judges appear to have rewarded the trend to short-termism. This is doubly bad news for creative effectiveness. Short-term campaigns are considerably less effective in the long term than those designed with long-term, brand-driven growth in mind. So the consequences of short-termism are evident in the erosion of effectiveness of IPA campaigns in recent years. And, unfortunately, creatively awarded campaigns are even more adversely affected by short-termism than others because the fame effects on which their success is based take time to build and exploit. Creativity inevitably underperforms in the short term. Short-termism should be recognised for what it is: a threat not just to the power of creativity but also to the health of brands.
2. Lower budgets is wasting creativity
The second legacy is a sharp drop in real budgets put behind campaigns in the IPA Databank. The most important measure of budgets – extra share of voice (ESOV), which is the difference between share of voice (SOV) and market share – has fallen by about 12 percentage points since 2006. This is not only a consequence of lower business confidence but also of a naïve belief in some quarters that, in the digital era, SOV is no longer important. The IPA data firmly refutes this belief. Unfortunately, creatively awarded campaigns have been more badly affected by lower real budgets (bottom chart), to the extent that, for the first time in 20 years, their SOV is less than their market share – ie. ESOV has fallen below zero, the level needed to maintain market share. At this budget level, it is irrational to expect any market share growth. Misled by a completely false logic, marketers are using creativity as a substitute for budget rather than as a multiplier of it. The report shows that, at negative ESOV, the investment in creativity is wasted and awarded campaigns tend to underachieve non-awarded ones. Conversely, the more strongly positive ESOV is, the more creatively awarded campaigns overachieve and the greater the benefit in return on investment. Strong creativity needs positive ESOV to deliver its killer advantage.
In combination, these two legacies of the financial crisis are choking the fame effect of creativity and have halved the effectiveness advantage that awarded campaigns enjoy over non-awarded ones. At 6:1, the advantage is still extremely beneficial to brands wise enough to invest in creativity, but a destructive downward trend has developed that even new models of creativity cannot reverse. A return to long-term, brand-building creativity is essential if the next five years are not to witness the death warrant of creative effectiveness.
Peter Field is the author of Selling Creativity Short, the new IPA report into the link between creativity and effectiveness