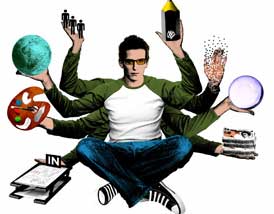 Few in adland would disagree that the job of creative director has changed beyond all recognition over the past two decades. But where is the position going, and, crucially, what kind of skill will it require in the future? Six current and former creative directors – Bartle Bogle Hegarty's John O'Keeffe, Ogilvy's Rory Sutherland, Rainey Kelly Campbell Roalfe/Y&R's Ben Priest, glue London's Mark Cridge, Lowe London's Ed Morris and the former Bates London executive creative director Andrew Cracknell – spent a week on a blog debating the issues. Add your thoughts in the forums now.

On 5 March at 1.24pm,
andrew_cracknell wrote:
I think – think – I'm here to represent the "it was never like this in my day" corner – and I won't disappoint. It wasn't. I feel desperately sorry for today's creative director, particularly in the large, publicly quoted agency, and depressed at either the refusal or the inability of the rest of management to grasp the change that's necessary. And the responses in a recent article in Campaign on this subject didn't help, with every one of the working creative directors pretending nothing is wrong; well, they would, wouldn't they? But get them alone, over lunch, and it's a different story. One of them even refers to himself as "nothing more than a process manager".

The phrase and the basic job spec, "creative director", has been unchanged over the past 50 years, but it is not only the volume but the breadth of the job that has changed out of
all recognition. I'm not sure that my first creative director, the legendary Colin Millward at Collett Dickenson Pearce, was even departmental budget-responsible. And he had no direct marketing, web, global, agency PR, strategy or probably client contact to worry about. There wasn't even radio. And the agency had enough money and time for experimental work and to train apprentices like me.
Not only are today's creative directors so stretched, that they don't know whether it's Marble Arch or Wednesday, but they also need to be constantly pushing the agency into places it doesn't want to go creatively, while at the same time worrying about keeping costs and clients under control. And it's simply platitudinous to say that truly original thinking and happy clients go hand-in-hand. In a perfect world, yes…

So there's an inevitable conflict of interest within the job, unless you're in a digital agency – where you and the clients are sort of learning together – or you're in the happy position of being the creative owner/operator of your agency, when clients have come to you knowing the sort of work you're going to give them.

The rest of you are always going to be faced with a contradictory brief from your management; offer something new and brave to clients who are here because they like what we usually give them.

It's something JWT could ponder before it simply just plugs a new creative director into the socket from which it has just unplugged the old one, throws the switch and hopes it works. Einstein could advise them: "We can't solve problems by using the same kind of thinking we used when we created them."

On 5 March at 2.12pm, rory wrote:
I am not sure that anyone at the early CDP was budget responsible, actually. Not even the finance director.

And I agree entirely with your diagnosis. But I think it is worsened by the same kind of problem Plato identified about politicians in The Republic – that the only people who obtain power are those who should never be allowed to wield it. In our business, you become successful as a creative through a kind of reclusive, monomaniac, detail-fixated obsessiveness, only to find the job of creative director demands the opposite. It's like going from train-spotter to talk-show host in the space of a single week.Interestingly, Americans and Antipodeans seem to find the transition a little easier than we do, being mouthy from birth.
The first decision you have to make is choosing what to delegate and how. The time when you could see, approve and re-brief any of the agency's work has long passed – at most, you can carry out in-flight repairs.
Rather inconveniently, the very best creative directors of the future are already dead. Howard Luck Gossage, James Webb Young and that Scottish chap would have made even better creative directors now than they did then. I would employ old people. People who can remember full-service agencies, who can discuss media and creative in the same breath, and who remember the period of time before planning stole the creative department's clothes.
To address this, we have recently created the role of creative partner, a completely client-facing role with complete responsibility for a brand across all touchpoints. This person can call on any group resources they want in order to solve a problem. It seems to work rather well so far. And it also frees up Malc, Colin, Bo and me to spend more time on the envelope- pushing thing.

On 6 March
at 2:47pm,
John wrote:
The theme that is developing is one of a hugely expan­ding workload, coupled with shorter and shorter deadlines. So I agree with Rory's idea of a group of creative partners to share the load. The one thing I'd add is that, in the future, this notion of partnership shouldn't just be in-house.
I think (I hope), creative people of whatever discipline, will spend more time with brand managers and directors, and the creative team will be made up of agency and client. Hopefully, that will mean people feel more ownership, and are, therefore, more protective of the big idea.
So the debate becomes how best to express it in all (or as many as are relevant) of the available channels.
It would make a nice change from the more common 50-year-old model of batting ideas
back and forth until they're dead. In fact, the best work that any of us have been involved with probably owed a great deal more to this "future" vision. There's nothing new, is there?

On 6 March at 11.31pm, rory wrote:
One of the reasons why we are all so goddamn busy is that the system of payment by the hour has an inherent bias in favour of hiring account people rather than creative people. The ratio is now severely out of whack.

To sell creativity by the hour is absurd. It's like selling diamonds by the pound, not the carat.
But when account people do the capacity planning and creative people were made (or chose
to be) invisible, the problem is then made still worse.

On 7 March at 9.20am, Benp wrote:

The role of the creative director has changed a good deal in the past ten years, but, at its core, it is still about the same things that it has always been: people and ideas. You need to love ideas and be able to spot them when they're buried deep beneath a pile of rubble; you have to be able to inspire, encourage and inform your department and others in the agency, propelling them on to greater things.
You should spend no more than four hours a year talking about costs. If you do, then more
fool you. If you are working with the sort of clients who want "what you usually give them" then you're working with the wrong clients. The BBC, Virgin Atlantic, Budweiser, The Times, Land Rover, COI and Lloyds TSB, to name but a few, demand fresh thinking and fresh work, and wouldn't hang around if they didn't get it.
We work faster than we used to. Surprise, surprise, life's faster than it used to be (see microwaves, the internet and mobile phones). However, you should always be able to plan proper time in for major projects.

You don't have to do everything yourself. Again, people are the key. Finding them, encouraging them, empowering them. At Rainey Kelly Campbell Roalfe/Y&R, Mark Roalfe and I are ably supported by a small group of creative partners.
Change is good. Hire people from abroad, hire people from different skillset backgrounds. It's a great way to break the long-established ad college conveyor belt, and it gets fresh thinking and fresh questions flowing around the building.

Producing great work and hiring the very best people are the only contributions you need to make to the PR efforts of agencies. If you are that interested, go and work in PR.

Surround yourself with a small but brilliant management team. People you trust and have the same beliefs and values as you.

So there it is. The job's changed, but it's still the same. Exciting, maddening, adrenalin-packed, hard work and incredibly fulfilling. Come and have a go if you think you're hard enough.

On 7 March at 1.00pm, mark wrote:
One thing I wanted to highlight is the issue of control. Traditional creative directors have quite rightly been educated to control every aspect of the production of our craft down to the last dot on the last "i". By its very nature, the role of the creative director is as much about being an arbiter of good creative taste as it is about coming up with that great creative idea in the first place.
In a number of ways, this still holds true. However, it is clear that with the increasingly fragmented nature of media and the rise of digital, ordinary people are in greater control of their media consumption than ever before.
This ever-increasing consumer control means that more so than ever before, ad agencies can no longer stage-manage every single aspect of a brand's external face as they have at least attempted to do in the past.

Traditional creative directors, in my experience, are hardly the first people to be comfortable with a lack of control. How do they square this with the need to craft their work to perfection?
The creative director of the future will need to learn to be less of a control freak. This then begs the question, well what do we do then?

On 7 March at 3.32pm, John wrote:
I'm all for user-generated stuff as long as it has something to do with the brand. When we first did virals (Flat Eric), about ten years ago, they whizzed around the world in a trice, and came back in all manner of weird and (mostly) wonderful ways, and made Levi's even more famous, because they were integral to the brand campaign, which, of course, appeared in all the traditional media as well.

However, it seems that we are awash with buzzphrases at the moment, including "the consumer is in control of the media". If that just means it's much harder to interrupt people, I agree. If, on the other hand, it means most, or a large number of, people are generating their own content, where's the evidence? I don't see it.
I think we should encourage more of that, especially against those brands whose users will be more likely to spend their time creating stuff (still a small percentage in my view). But I'm sure that, as long as we continue to create big, engaging brand identities, for which creative directors, now and in the future, will probably have some responsibility, we can do that.

On 7 March at 4.13pm, mark wrote:
Rather than all that user-generated stuff, I was more thinking about what people actually say to each other in normal conversations, things such as word of mouth.
Word of mouth is arguably the oldest form of advertising, way before it began being called by all its different buzzword names.

Why it's much more powerful today is because of the internet. Any opinion can be amplified and spread much more rapidly than in the past. What this means for brands, or indeed any commercial organisation, is that they can't hide the truth any more.

It used to be that an ad agency could paint a picture of what a brand was about and broadcast this to a more passive audience.

As the opportunities to contradict these commercial messages were much more muted in their effect, any word of mouth, therefore, ended up restricted to a much smaller group of individuals. As a result, the brand was all powerful.

Today, we can attempt to control how a brand is perceived through our advertising, but if the reality of the product fails to live up to this approach, it will be exposed pretty rapidly. Think of ntl:Telewest being rebadged as Virgin Media, for instance.
That's what we mean when we talk about the consumer being in control, not all the usual nonsense about everyone creating videos on YouTube or whatever.
On 7 March at 4.17pm, mark wrote:

To add to that, what I'm getting at is that rather than try to control every aspect of a campaign, one role of the creative director of the future (or today, even) will be to create situations where people talk about brands, to generate word of mouth.

On 7 March at 5.15pm, edmorris wrote:
I agree with the "less of a control freak" comment. Creative direction requires an unbelievable amount of flexibility; it's a broad skillset, from pitching to boardrooms full of people to making sure you hire the right typographer. When you have that overview, it's hard to let go of any particular problem, especially when you have the type of holistic view that can solve it quickly.
I can see one challenge of the future being around the issue that is about delegation versus inspired leadership. Good creative departments and cultures need strong leadership and
vision. But with everything "fractalising" the way it is, we can't keep holding on to more. Something has to give. It's unfair and demotivating to delegate all of the process and responsibility without any of the creativity or power.

I look to agencies that have made the leap from local to network to see what model can deal with the shift in workload and workflow.

On 7 March at 5.19pm, edmorris wrote:
I have this strategy that helps me gets through a week without needing to take heroin.
Basically, the busier things get, the less I do. I visualise it as sort of pulling away from the planet. I focus on the bigger, more visible/more imminent problems. If we're not busy, I'm writing scripts. It's a small department here; there are only five teams now, so we all need to pull our weight.

The big question is all about how you be a creative director of the future without turning into a pragmatic-diplomatic-conservative-pragmatic client-entertainment-all-singing-all-dancing-pragmatic-puppet-c**t.

On 7 March at 5.22pm, edmorris wrote:
C'mon, where are the real blogheads? I want to see who starts posting at three in the morning. I bet some of you got your PAs to log on. I know a creative director who
replies to their e-mails by handwritten letter. How suave is that?

On 7 March at 8.22pm, rory wrote:
Maybe we could all be working in PR in a few years. Judging by everything above, the PR model – where you create stories so interesting that other people willingly retell them – it seems rather cost-effective compared with the advertising model, where you pay Rupert Murdoch to repeat your stories for you. You do, however, end up surrendering all control.
Which reminds me. If we were real blogheads, we would have gone completely off topic by now and started talking about the Nazis. Shall we ruin Campaign's noble blog experiment by straying into total irrelevance? Does anyone else watch The Wire? Just started season two on DVD. Best thing on telly ever.
On 7 March at 10.58pm, rory wrote:
By the way, John is absolutely right that it's a small percentage of people who create content. I think it's less than 1 per cent of the members of any community who ever create anything from scratch (although I suppose 1 per cent of a billion people is still a lot). However, what more people do is to take things that other people have created and reassemble them or re-edit them or whatever.
This seems to be the opportunity – not so much to be a brand architect, but a brand builders' merchant, where we provide the hardware and the tools and leave some of the design
to other people.

This kind of thing will be harder to present. But then how in God's name did you present Flat Eric?

On 8 March at 8.53am, edmorris wrote:
I was at BBH when Flat Eric was done. I was told by the creative team, Kim [Papworth] and Tony [Davidson], that Flat Eric was presented and brought as a TV and press campaign. The virals were created entirely by Kim and Tony. They seeded the best of them (Flat Eric in the royal carriage, etc) without the client or agency's know-ledge. There was client and agency
resistance at the time.

On 8 March at 10.05am,
andrew_cracknell wrote:
The "less control" observation is fascinating and probably accurate but, as Mark, who originally made it, says, how can a creative director easily give that up? In a big agency, I could get credited for some work I'd barely seen, and on the same day blamed for other work I'd also barely seen. So I quickly learned that if you want to retain your sanity, you need to be aware of everything across hundreds of pieces of work a month – which, of course, tends to destroy your sanity. And with "God is in the details" hanging over us all, Mark is right – how do you give it up?
But that point, together with my original question about the sometimes contradictory nature of the job spec, especially in large network agencies – see an excellent Jeremy Bullmore
response in Campaign (23 February) – could be answered by Rory's notion of the creative partner. How exactly does that work at your place, Rory?

On 8 March at 11.00am, mark wrote:
(I should say that I am writing this on behalf of Seb Royce who, as the extremely overworked creative director of glue London, is currently water-skiing in Barbados.)

One other thought struck me when I was re-reading some of the earlier posts is that it's a lot easier to be comfortable with less control when you have nothing to lose.
We're in the fortunate position of having no "way of doing things around here" to hold us back. I like the way Russell Davies describes it: "Start by assuming a media budget of zero, then put money behind what will work."
Rather than be restricted by formats, we can work out how best to use the craft skills that are available to us.

Any creative director who is going to succeed in the future is going to need to engender just this sort of freedom whether they find themselves in a start-up, digital hotshop or a creaking network agency.

On 9 March at 5.16pm, John wrote:
Sorry, I blogged off to see a client yesterday, but I promise I've been keeping an eye on all the posted pearls of wisdom, yes, even unto three in the morning (and I managed to log on
myself in the first place, Ed).
So a quick catch-up: 1) No, I haven't seen The Wire. Are there any Nazis in it? 2) How we, ie. the account team and John Hegarty (who, with Philippa Crane, first spotted the Flat Eric character languishing in some obscure French pop-vid), sold said puppet four times until they got a yes. 3) Ed's forensic memory has let him down, I'm afraid. All parties, according to the Levi's diaspora, from Goodby, to BBH New York, to Levi's itself, seem to recall a very positive desire to send his yellowness on a viral global tour and, do you know what, there are still
people messing about with the poor whatever he is today. Hopefully that brings me up to speed.
So, back to the future. To wit, the creative director thereof. Trust is the key, I reckon. There seems to be more of a culture of sharing in the digital space than in the – slightly more paranoid and possessive – offline world. We could all learn from that.
I found, back in 2000, that I needed a lot of others to help carry the weight of creative responsibility as this agency grew. So I put people I respected, and who were largely better than me anyway, in place as creative directors.
I didn't always agree with everything they did, but I left them to run their
accounts. Broadly (things can always be better) I'm happy with the past seven years, and look forward to the next. We will doubtless continue to find new and fantastic people to push us all on to better things, on and offline, because that's the responsibility we have. As long as we trust them, I feel confident about the future.

On 9 March at 7.06pm, rory wrote:
I think there will be a few more early morning posts to come. There's nothing else to do in the small hours now ITV Play is off the air.

On 10 March at 11.21am,
edmorris wrote:
"The charm, one might say the genius, of memory, is that it is choosy, chancy and temperamental; it rejects the edifying cathedral and indelibly photographs the small boy outside, chewing a hunk of melon in the dust," Elizabeth Bowen (1899-1973), a novelist, said.

On 12 March at 11.25am, rory wrote:
Love it. I'm not sure this is always so charming, however. My only surviving memory from my visit to the Acropolis is a dead dog and a stall selling Slush Puppies. I had a "Rip-Roarin' Raspberry", which turned my mouth an alarming shade of bright blue. I can even remember that. The Parthenon? Can't remember a bloody thing!

On 12 March at 12.43pm, rory wrote:
It is completely unfair to delegate
responsibility without power. And it leads to insanely complex approval processes. Client approval processes are already complicated enough without our adding to the problem.
The system we are now championing involves a partnership of three agency people with full ownership of the problem. The three agency partners – typically with planning, creative and business expertise (the fourth partner is the client) – would have complete, collective and concurrent responsibility for a particular brand and its ambitions.
The most important factor is the "concurrent" bit. The idea behind this is to get rid of the baton passing that so often prevents real innovation by allowing each member of the team to operate only within a narrowly defined space. The analogy I always use is this: you don't solve a Sudoku by cutting it into separate parts and handing them out to separate people to solve independently: you need to see the problem in its entirety.

Even in its infancy, when this system works, it works very well indeed. To join the debate click here.