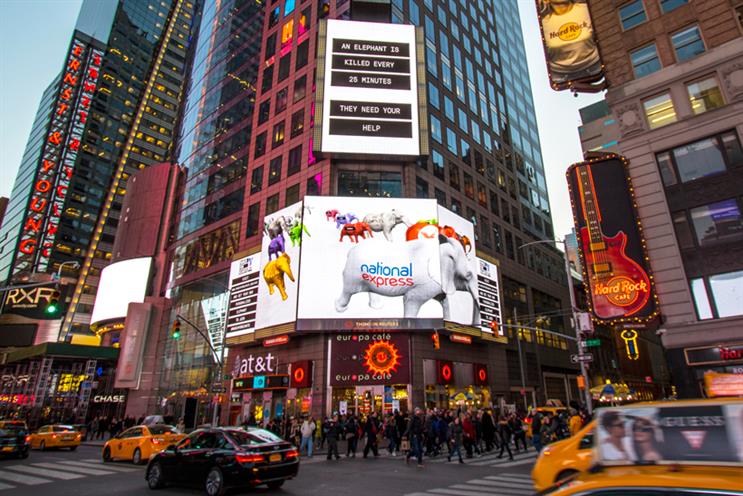 A 16-strong panel will select the best digital OOH ideas for campaigns that Ocean can bring to life on its screens in the UK or via The Alliance network in Madrid, New York and the Far East (Hong Kong).
Brands, agencies and creative teams have until September 8th to enter the free competition with a chance to share in the prize fund of £650,000 in media space. Winners winners will be announced at a ceremony at the IMAX in London on October 5th.
Two of last year's winners were an ad by WCRS for the Born Free Foundation which turned Ocean screens into virtual captive Orca tanks to mark World Orca Day, and "March for Giants" by 18 Feet & Rising, a campaign in which a herd of digitally-generated elephants marched across screens in the UK, US and the Far East.
The full 2017 judging panel is: Claire Beale, editor-in chief of Campaign; Gill Reid, board director, out of home, Mediacom; Glen Wilson, managing director of Posterscope; Stuart Taylor CEO of Kinetic; Chris Marjoram, managing director of of rapport; Andy Tilley, managing partner and chief strategy officer of Talon; Gareth Orr, head of OMD Create; Bill Moss, director of brand ventures and mall retail at Europe Westfield; Robin Behling, chairman of Feref; Sophia Amin director of PR and communications at IAB UK; Adrian Cotterill, editor-in-chief of Daily DOOH; Vasiliki Arvaniti, portfolio manager of Land Securities; and Ocean CEO Tim Bleakley.
Bleakley said: "Ocean invests in this competition to draw a new wave of global creative talent to the table, evolve the opportunities open to brands and to ensure that we market and implement every creative concept to the highest possible standards. Entering the competition is simple, but the rewards are multiple. And all you need to compete is a bold idea."