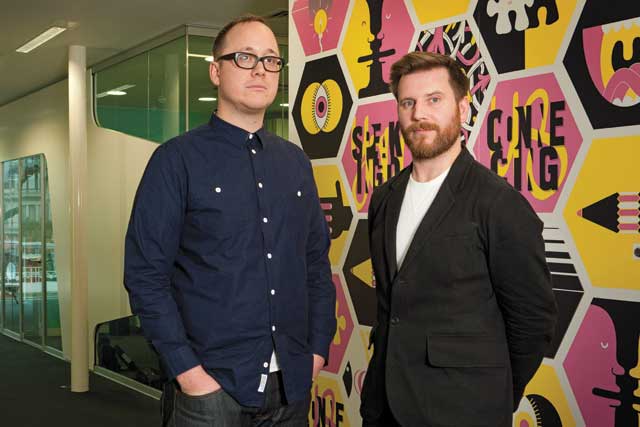 Within months of being hired by Adam & Eve, the creative duo Sidney Rogers and Harry Bugden had created a campaign for Phones 4u. By 2010, the pair, who had joined the agency straight out of Central Saint Martins College of Art and Design, had enhanced their reel with the stunning John Lewis Christmas campaign featuring Ellie Goulding's version of Your Song.
Now working at Mother, Rogers and Bugden's story highlights just how quickly graduate talent can flourish at agencies. Their experience is not universal. Tales abound of graduates that are ruthlessly exploited through placements that offer no real hope of a job and operate instead as a source of cheap, or unpaid, labour for agencies.
However, agencies argue that the use of graduates in creative departments is vital for the lifeblood of the industry - while conceding that the cost benefits are attractive too. Ben Priest, the executive creative director of Adam & Eve/DDB and the man who hired Rogers and Bugden, says: "For agencies, it's incredibly important to have really good young talent coming in. It's reinvigorating and very cost-effective - you're not blowing £200k on a team to do the best briefs."
On occasion, agencies might grumble that graduates arrive lacking the requisite craft skills to justify becoming a permanent hiring. On the whole, though, they are supportive of the quality emanating from colleges such as West Herts and Saint Martins, but argue that these courses have to constantly examine their offering to stay relevant.
Paul Tullo, the creative partner at TMW, says: "The rate of change in media and technology makes it difficult for colleges to prepare their students for some of the roles available in the modern creative department. Industry requirements are changing so rapidly that agencies must widen their search if they are going to find people with the relevant skills."
Tony Cullingham, the director of the West Herts course, says: "Watford is all about the big idea. We can look at technology and all the new-media opportunities, but let's not take our eye off the industry's most important asset: ideas people. Technology? That's the easy bit. That's process. To learn how to use the brain to create a piece of persuasive, emotional intelligence is the real art."
Agencies are also investing in their own training, or internship, programmes, which involve a short period of "on-the-job" training that is paid. However, this appears to be the exception rather than the norm, with many agencies subscribing to a "sink or swim" theory where the best creative talent floats to the top through attitude and natural flair rather than intensive training.
Russell Ramsey, JWT London's executive creative director, says: "I suspect the training budgets for creative are generally a fraction of what they are for planning or account management. The belief being that they can learn on the job from their more skilful seniors. That's fine as long as it is actually happening."
Tullo, pointing to his agency's own graduate programme, argues that it's vital to continue a graduate's structured education once they take a job: "It's only when someone is faced with 'on-the-job' challenges that it becomes clear whether they have the talent to make it in the industry. Once raw talent has been identified, agencies have a responsibility to invest time and money in training people to meet the needs of the job and the wider industry."
CREATIVE CHIEF
Billy Faithfull, creative director, WCRS
"'It's not how hard you can hit, it's how hard you can get hit and keep moving forward.' Yes. I quoted Rocky. Get over it. There's nothing so equally precious and disposable as a creative idea. So learning to be a creative is about taking punches, about how you respond to rejection.
"It might seem old-fashioned, but what we look for in teams is attitude. Not arrogance or swagger, but a never-say-die, my-God-I-love-solving-problems-for-a-living attitude.
"Wannabe creatives do need training, but it has got very little to do with creativity, as it's popularly perceived. Colleges should sow the seed of confidence in their grads, but agencies have to make it grow."
CREATIVE CHIEF
Paul Tullo, creative partner, TMW
"As well as considering graduates from traditional creative courses, agencies need to try to identify talent from elsewhere, whether this be tech colleges or graduates from more academic backgrounds. For example, the role of 'creative technologist' requires a unique skillset that bridges the gap between creativity and technology.
"This is where on-the-job training and internships come in, and it's one of the reasons TMW has launched a paid six-week rolling internship programme, where graduates work on live briefs alongside a mentor.
As well as providing interns with invaluable experience and contacts, the internship helps agencies spot raw talent and create a 'talent pool'."
CREATIVE CHIEF
Ben Priest, executive creative director, Adam & Eve/DDB
"At the end of the day, a lot of guys and girls come from the same colleges and courses and have worked on the same briefs, so, in the end, it comes down to ability, attitude and what kind of people they are.
"The trick is to be hard-working, have the talent but take the knock-backs and keep on going, don't get downhearted and make the most of opportunities given.
"Good colleges do well but, some years, you feel it's a bit of a conveyor belt and I like people to come from different backgrounds.
"The final piece of education is sitting in agencies and doing it for real. Grads need guidance in areas like production but, in the end, they just have to go for it."
CREATIVE CHIEF
Russell Ramsey, executive creative director, JWT London
"I think our industry can be a bit hypocritical when it comes to graduate recruitment. We protest that it's all about ideas and we are looking for clever people who have a wealth of them. We also pride ourselves on diversity. Creative recruits can come from anywhere. They don't have to have formal training if they happen to have a knack for great comms ideas.
"Then, when we hire them, we start to complain that they don't have the right craft skills.
"If we're going to take grads who may have done a degree in philosophy, a product design course or, God forbid, no degree at all, we have to accept that they will be lacking the craft skills necessary."