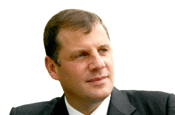 The National Endowment for Science, Technology and the Arts (NESTA) estimates that UK creative industries will grow at double the rate of the rest of the UK economy, on average by 4 per cent, over that five year period.
It also states that by 2013, the creative industries sector - which includes film, music, fashion, TV and video games production - will employ 1.3 million people, more than the financial sector. Over the same period, the number of creative businesses will grow from 148,000 to 180,000, contributing £85 billion to UK gross value added (GVA) .
However, GVA for the sector is set to drop in 2009 by as much as 6 per cent. NESTA forecasts the sector will recover by 2010.
Jonathan Kestenbaum, NESTA's chief executive, said: 'Today's figures point to the creative industries, and specifically the talent we have nurtured within it, becoming a key driver for the UK's recovery from recession.
However, we need to keep our eye on the horizon and drive forward 21st century business models which are key to the future success of this sector.