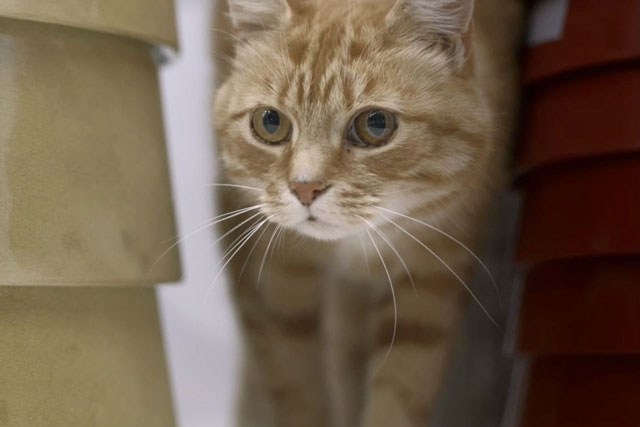 GOLD: PRESS INDIVIDUAL AND PRESS CAMPAIGN
Antony Nelson and Mike Sutherland, Abbott Mead Vickers BBDO
Tower Hamlets 'texting while driving'
Antony Nelson and Mike Sutherland were shocked when the Big Awards became a night of celebration for them. "On the night, I said to Mike we could be walking away with nothing, which would have been really embarrassing," Nelson says. But their table was heaving with awards by the end of the evening, thanks in part to the simple brilliance of their Tower Hamlets print work. The borough chooses to communicate a different message to residents every year, and this time it was the dangers of texting while driving.
The duo originally teamed up at university in Doncaster in 1997 and started their advertising careers at Saatchi & Saatchi, where they worked for five years on accounts such as Carlsberg and Visa. They then joined Fallon and worked on clients including Sony and the BBC. A year later, they moved to the US and did a stint at Publicis New York before returning to the UK to join AMV in 2006.
The children in the gold-winning "texting while driving" campaign were cast from the main school in Tower Hamlets. During the shoot, the team was reliant on the weather to get just the right light, as any shadows would have ruined the shot. The process was painstaking.
The statistic that drivers who are texting are 23 times more likely to have an accident led them to the idea of a multi-layered image of a child playing in the street in 23 different poses. "You can see how simply we got to the idea," Sutherland says.
GOLD: INTERACTIVE CAMPAIGN/ARDEN AWARD
Matt Keon, 18 Feet & Rising (formerly at Fallon)
Tate 'Tate movie project'
Matt Keon's brief to make art more accessible to children was expected to take the form of a traditional TV or press ad. However, Keon, who was in his second year at Fallon at the time, immediately realised the need to make the campaign more collaborative and interactive.
Getting into the minds of children proved easy. Keon's two nieces, aged six and nine, came in handy, as did Tom, the 11-year-old son of Fallon's founder Richard Flintham (now at 101). "We thought: 'What would they like to do, see and take part in?'" Keon explains. "That's where the idea of getting children to create their own film came about."
While the Tate was initially nervous about the concept, the idea - with the help of the Tate's creative director, Jane Burton, and the marketing director, Will Jomepertz - was given the go-ahead, and the "Tate movie project" was born.
"We launched workshops with the Tate for eightto 11-year-olds and fourto seven-year-olds, where they had to write down stories, feelings and characters they liked," Keon says. "There was a broad tapestry of creative collecting."
After eight months of sourcing material and a year of making the film, the three-year project was finally complete. In order to reach those in deprived areas who wouldn't have access to the film, a Tate bus went up and down the country showcasing the piece. Meanwhile, the Tate achieved a Guinness World Record for the most individual contributions to an animated film, with 1,897 people selected for involvement in the process. Keon's ambition had clearly paid off.
GOLD: FILM INDIVIDUAL
Freddy Mandy and Tim McNaughton, Mother
Ikea 'cats'
Never underestimate the feline powers of persuasion. Jean Cocteau once said a cat can become the "visible soul" of the home.
A hundred of them can even turn a furniture showroom into a domestic idyll, as evidenced by Freddy Mandy and Tim McNaughton's "cats" spot for Ikea.
"Cats are the most discerning experts on happiness at home," Mandy says, as he explains the thought process that led to the Mother creative team unleashing a gang of them on an Ikea store in Wembley one evening. Mandy and McNaughton wanted to conduct an experiment to prove that Ikea furniture can make you happy (after the pain of assembling the stuff has subsided, presumably).
The soundtrack is by Mara Carlyle, a friend of the creative team, who had been dropped by her record label. "It was one of the first tracks we tried," McNaughton remembers. The ad revived the singer's career overnight.
Mandy and McNaughton make it all seem effortless. And it probably is, for two people who have been best friends since they were 13-years-old.
They have been at Mother for two years and, before that, spent four years at Rainey Kelly Campbell Roalfe/Y&R. Both Arsenal season ticket holders, they owe some of their success to the fact that, after all these years, they still enjoy spending an inordinate amount of time together. Mandy notes: "It does help if you trust and like each other. We can open our minds to each other."
The Ikea experiment had its logistical demands and the clean-up the next morning can't have been fun. But, despite the pressure behind the scenes, the resulting film is as elegant as the creatures themselves.
GOLD: OUTDOOR CAMPAIGN
Matt Fitch and Mark Lewis, Bartle Bogle Hegarty
Google 'say it to get it'
If you're joining the industry late, there are few places you'd rather start at than BBH. And very few clients you'd rather work on than Google. But that dream became a reality for Matt Fitch and Mark Lewis, who, just 18 months after being given their first full-time job by BBH's executive creative director, Nick Gill, have a gold Big Award. "We've come to advertising later than usual," Fitch says. "We've been trying to catch up ever since."
The Outdoor award was for Google's "say it to get it" campaign. "The brief was to create an ad that people enjoy, but also makes them work a little," Fitch explains. "We would see people on the platform at the Tube station looking at the ads, and the realisation on their faces once they worked out what they were reading. It was awesome."
That's not to say the campaign was easy to create. As Lewis points out: "It was a 48-hour pitch that we got brought in on, but the tight deadline was an advantage. It was a case of brainstorming until we couldn't brainstorm any more. But once we cracked the area of phonetics, it all snowballed. We realised the campaign was special when we heard normal people talking about it."
A gold Big Award suggests that those in the industry like it too.
GOLD: OUTDOOR INDIVIDUAL
Tim Brookes and Phil Foster, Rainey Kelly Campbell Roalfe/Y&R
Land Rover 'passport stamps'
There are certain clients that seem to make regular appearances in the winners list at UK advertising awards. One is Land Rover, which has made some of the UK's most powerful and beautifully crafted campaigns, and this year won gold in the Outdoor Individual category. Little wonder, then, that RKCR/Y&R's Tim Brookes and Phil Foster always look forward to Land Rover briefs. "With Land Rover, you've got that perfect mix of a good product and a client who likes to do good work," Brookes says. He highlights the Land Rover Defender's shape as the secret to the winning ad. "The car's shape is instantly recognisable so, looking at the ad, you get it immediately," he says. "But there's an attention to detail that rewards the consumer when they look closer too."
The duo joined RKCR/Y&R in 2004 and have worked on brands including Marks & Spencer and Virgin Atlantic, but they try to do as much work as possible on Land Rover. When the work results in spots such as "passport stamps", who can blame them?
GOLD: INTEGRATED
Laurent Simon and Aidan McClure, Adam & Eve (formerly at Abbott Mead Vickers BBDO)
Metropolitan Police 'who killed Deon?'
"The brief was around the fact that you don't have to stick a knife in someone to be charged with murder," Aidan McClure, one half of the team that created the winning campaign for the Metropolitan Police, explains.
McClure and Laurent Simon (both now at Adam & Eve) decided to explore the chain of events that can lead to a murder with this impactful film.
The pair met at Watford College and did placements at AMV, Mother and Bartle Bogle Hegarty on a Diageo scholarship. AMV was the first to offer them a job and the Metropolitan Police campaign was the last project the team made there.
The work is a "whodunnit" in the mould of Agatha Christie's Murder On The Orient Express (where all the suspects commit the crime), but set on a council estate. Simon and McClure worked closely with the police and talked to young people in estates that the police were trying to target.
The challenge was not only to make a complex law understandable to a young audience but to get through to a section of the community that does not want to hear from the police. A lot of people cast were from the streets and much of the dialogue was improvised. Simon notes: "In order to reach them, you have to be as real as possible."
GOLD: OUTDOOR INDIVIDUAL
Simon Lloyd, Nici Hofer and Christine Turner, Adam & Eve
John Lewis 'harmony house'
We've all been charmed by John Lewis' TV spots in recent years, but it was an outdoor campaign that helped Adam & Eve take home a gold.
Created by Simon Lloyd, Nici Hofer and Christine Turner, the "harmony house" - which was built on London's South Bank last year - showcased the retailer's new lighting range by lighting up in different sequences in response to music.
"Music has always played a big part in John Lewis' communications, so we wanted to show how music and lighting can work in tandem to reflect different moods," Lloyd says. "We'd already used the house concept before in the print work, so this was a great way of getting consumers to really interact with the products."
As you'd expect, constructing a house on the South Bank was no easy task. In fact, it was three months in the making. "We didn't want to fake any of it," Turner says. "It meant we were under a huge amount of pressure to get it right when it went live - we had to consider everything from making sure the lights reacted on time to making sure that the house was properly ventilated."
A deal with a music company meant that the public had an online database of nearly ten million songs to choose from, and the singer Fyfe Dangerfield (who provided the soundtrack for John Lewis' "always a woman" TV ad) launched the campaign with a live set.
For a brand that's majored on nostalgia over the years, the harmony house was a great way to show that John Lewis can be innovative and forward-thinking as well.
GOLD: FILM CAMPAIGN
Fred Rodwell and Andrew Parsons, SFW (part of the VCCP Partnership)
More Th>n 'More Th>n Freeman'
When Fred Rodwell and Andrew Parsons landed a placement at SFW, part of the VCCP Partnership, never could they predict what was going to happen to them. The two met on the placement after studying history of art at the University of Birmingham and advertising at the University of Gloucestershire respectively.
And having worked on "bits and bobs" during their first few months, the duo were keen to snap up a juicy brief and show the agency what they were capable of.
Parsons says: "We weren't briefed on the More Th>n campaign, but we were always trying to get on to big projects. So we set about coming up with ideas for More Th>n after work, and then went into the agency to present it."
After a good reception from the agency, the concept was put into research and did amazingly well. The client also liked the idea, finding it "funny and resembling the core proxy of the brand".
"We were trying to make insurance necessary but also trying to make it pleasurable to watch," Parsons says. "We wanted to make it as cinematic as possible, and that's where Morgan Freeman came into it. His voice is very trusting and sounds like a handshake. So when we came across the US actor and impressionist Josh Robert Thompson, who sounds just like him, it was captivating."
The duo encapsulated Freeman's tone for the ads from one of his most famous films, The Shawshank Redemption. Like the film, the ads also aimed to have a strong narrative style, which was both languid and evocative.
The result? A series of excellent TV ads, a gold Big Award and full-time jobs at the agency for Rodwell and Parsons.