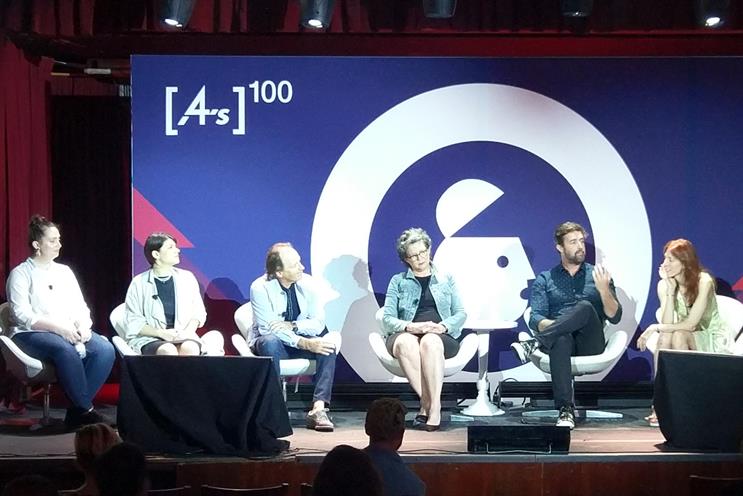 At Advertising Week, creatives responsible for some of the best work of the last few years expressed skepticism about the growing role of consultancies in the industry, especially when it comes to fostering brave and meaningful work.
"Give us the data and get out of the room," said Badger & Winters chief creative officer Madonna Badger, during the "Creatives on Creativity" panel Wednesday morning. "I don't think it makes sense for them to come to the creative world, and think that it's going to be an equation you can figure out," she added, responding to questions from panel moderator Claire Beale, Campaign's global editor-in-chief.
The Martin Agency CCO Joe Alexander called it a "scary notion" that consultancies with little experience with creative pursuits are increasingly in charge of campaigns. The comments came as part of a wide-ranging discussion on the state of creativity in the industry, as ownership, audiences and ad formats continue to evolve beyond traditional holding companies and 30-second TV spots.
"Consumers seem to be hungry for brands to stand for something bigger than simply just the products they sell," Alexander said. He acknowledged that approving work that does take a stand can be a difficult proposition for a chief marketing officer, especially when they lack support from management. "They have to feel very empowered by everyone that's involved, because most often, they're hired by a CEO to make a difference, or they're not. They either feel empowered in that role, or they're fighting against it all the time," he said.
When all parties are in alignment, industry-changing work can happen. "Brands are starting to realize that they can't be tone deaf to what's happening in the world around them," said Tali Gumbiner, an associate creative director at McCann responsible for "Fearless Girl." She credited the client, State Street Global Advisors, for asking for impactful and risky work in the first place.
Now "other clients at McCann are asking for a 'Fearless Girl'—asking for something that will make them money and will go viral," she said. But if a client doesn't walk the walk, you can't put out a piece like this."
The success of "Fearless Girl" has had repercussions at the agency, as well. "'Fearless Girl' has given us permission to make this kind of work," said Gumbiner's creative partner, ACD Lizzie Wilson. "We've always pitched it."
"At the end of the day, the best thing for a brand is to align itself with a cause that the core of the brand stands for," said panelist Rodrigo Butori, ECD at the community. "You pursue that, and you go for that, and you deliver against that, and you feel that connection happening." Changes in the industry facilitate that, he added. "To be able to create new spaces, to invent new ways to talk to people—innovation is the new creativity."