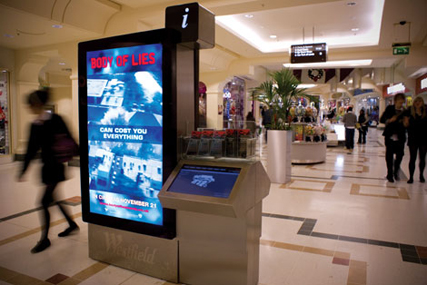 Speaking at Clear Channel Outdoor's inaugural creative seminar, Sutherland said: "The point of choosing is extraordinarily contextual. If you want someone to change behaviour, context has a ludicrously disproportionate effect.

"Posters, because of location specificity and digital outdoor's time of day opportunities have a huge part to play in this."

Industry figures including Mark Fiddes, executive creative director at Draft FCB, Ewan Paterson, managing partner at CHI & Partners, and Paul Brazier, executive creative director at Abbott Mead Vickers BBDO, were asked to choose the outdoor ad they wish they had been involved in.

The panellists chose ads from shredder manufacturer Shreddit, The Economist, Harvey Nichols, Pirelli and Wonderbra. Brazier said: "Everything is in play in a poster. They are there to be cherished and we should aim high to create the very best ones."

Paterson said outdoor should not be relegated to a support medium. He said: "We have neglected what it can be - a brilliant way to make a brand famous."

The afternoon was introduced by William Eccleshare, president and chief executive of Clear Channel International and former BBDO EMEA chief executive, who spoke of the need for the outdoor industry to work more closely with creative agencies to engage audiences in arresting, memorable and motivating ways.