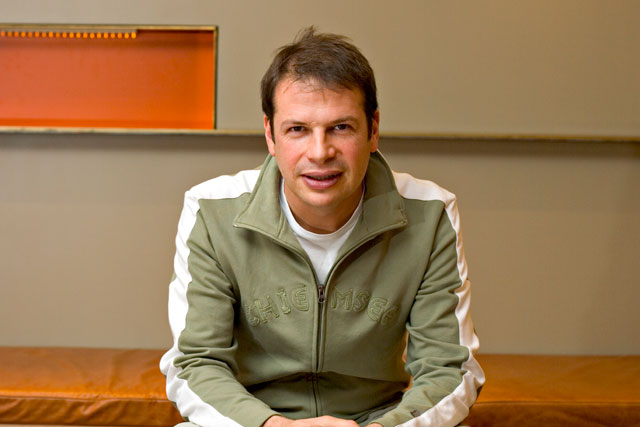 Peter Souter, back in adland at the helm of TBWA UK Group after four years as a TV writer, must hope that his most recent BBC commission, the pilot episode of a romantic comedy series set on a cruise ship, is not a portent.
Its title? All At Sea.
In taking over as the chairman and chief creative officer of a top-20 agency, Souter sails into uncharted waters. The last thing TBWA, and the creative community at large, will want to see is him drowning under the weight of his new responsibilities.
For TBWA, the appointment symbolises a desire to reassert its creative credentials after what has been a turbulent recent history. But it also has wider significance.
In the past, the industry boasted a formidable array of creative entrepreneurs - from David Abbott and Sir John Hegarty to Tim Delaney and Trevor Beattie - who could not only produce compelling ideas but were closely involved in the management of their agencies.
Such people were always rare. Now, many believe that they have almost reached the point of extinction.
"The harsh economic climate has bred a mistrust of creativity," Bruce Crouch, Bartle Bogle Hegarty's former creative chief who became a founding partner of Audacity, says. "The money men have taken over and clients are so much more risk-averse."
Rory Sutherland, the Ogilvy Group UK vice-chairman and the first creative to become IPA president, says: "It has always been difficult for creative people to run agencies. Now, the finance function makes it almost impossible."
Gerry Moira, the chairman and director of creativity at Euro RSCG, suggests the paucity of creatives in charge of major agencies stems from the received wisdom that creative and management roles are incompatible.
"Creatives are seen as free-thinking radicals with strong egos who challenge the status quo," he points out. "Management, which works in a much more collegiate and consensus-driven way, is regarded as very different."
Russell Ramsey, JWT's executive creative director, believes the creatives who go on to lead their agencies will always be few in number because the transition is so difficult.
"Just moving from senior creative to creative director can be an ordeal for some people, because they have neither the management skills and nor do they know how to be pragmatic," he says. "But if that transition is hard, just imagine how much harder it is to go on and run the agency."
Andy Cheetham is the creative director of Cheethambell JWT in Manchester and was one of the first creatives to be elected to the IPA Council. He dismisses suggestions that creatives have become marginalised, but argues that those with ambitions to run agencies are having to become more business-savvy.
"Time was when executive creative directors were gods and it was cool to have long arguments about the size of the logo," he says. "Now, they have had to grow up."
Souter, many would argue, is of that ilk. Articulate, extrovert and comfortable with clients, the former Abbott Mead Vickers BBDO executive creative director was Abbott's protege and is eager to import what he learned from him into TBWA.
"Agencies are factories that manufacture ideas," he says. "The onus is on creative people to find the big solutions. That's why the likes of Abbott and Hegarty wanted to be in charge. And that's why I want to be."
CREATIVE CHIEF - ANDY CHEETHAM, CREATIVE DIRECTOR, CHEETHAMBELL JWT
"I don't believe creatives are becoming more marginalised by agencies, but I do think that the ambitious ones are having to become more business-savvy and grown up.
"Peter Souter is a great example of what I mean and his appointment not only shows how much TBWA respects creativity, but that creative people can be seen as successful businesspeople as well.
"Of course, the limited number of big agencies means there will always be few opportunities for creatives wanting to lead them. Nevertheless, it's significantly different in the design sector, where a lot of companies are run by creatives."
CREATIVE CHIEF - GERRY MOIRA, CHAIRMAN AND DIRECTOR OF CREATIVITY, EURO RSCG
"There's no doubt that chief creative officers have become marginalised in many network agencies over the past ten years. They are just seen as departmental heads rather than part of the management team. Sometimes, you may not even know who the creative director is.
"This has happened because networks are more about making money than producing good ads. Managing the margins is seen as much more important.
"Peter Souter is perfectly capable of handling most of the management tasks at TBWA. After all, even the biggest agencies are really quite small companies and managing them isn't rocket science."
CREATIVE CHIEF - PETER SOUTER, CHAIRMAN AND CHIEF CREATIVE OFFICER, TBWA UK GROUP
"David Abbott was the reason I joined Abbott Mead Vickers BBDO. The agency personified him and I would love to have seen Paul Brazier, my successor there, made agency chairman after Farah Ramzan Golant's departure. Ian Pearman, the chief executive, is brilliant, but I think it would have been a clear reaffirmation that creativity is at the heart of what AMV does.
"I don't see that appointing people like Paul and myself is risky. My focus will be on how we create the big ideas and on making sure I have people around me who can do the things I can't."
CREATIVE CHIEF - RORY SUTHERLAND, VICE-CHAIRMAN, OGILVY GROUP UK
"I'm very much in favour of having creatives at the very top of agencies, because they bring passion and cultural diversity to senior management.
"However, it's becoming increasingly difficult for a creative person to run a major agency because of the intrusive role that finance now plays.
"Being a chief executive is a gruelling job - much less fun than being a creative - and may involve spending a lot of time talking to shareholders or the City.
"But creatives should have high-level involvement because agencies that are only motivated by financial reward will never be any good."