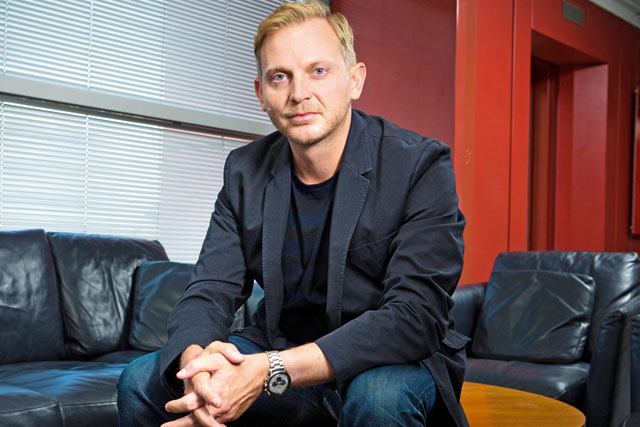 We live in a time of unprecedented technological change. DVDs, boxy TVs and compact cameras have all been made obsolete in the past five years. You have to wonder what the casualties of the next five will be. Laptops? Cash? The magazine you're reading (print version, of course)?
So has this had an impact on creativity in agencies? You bet it has.
Andy Lippman at the MIT Media Lab says we're on the verge of a new era of "digital understanding". We are moving beyond technology that talks to us to technology that talks to other technology.
Google has created contact lenses that can measure the levels of insulin in a diabetic person's tears so their phone can prompt them to top up. And it'll do all this while the wearer is sitting in the back of Google's self-driving car, en route to their Virgin Galactic commercial spaceflight.
This isn't The Jetsons; this is happening right now.
It's the stuff that's filled the over-active imaginations of creatives since childhood. To be working at a time when we can exploit these opportunities is truly exciting. We don't just get to create content, we get to shape the platform it's delivered on.
It's like being the kid who wakes up on Christmas morning to find not just toys but the key to Santa's
workshop.
And here lies the first problem: innovation overload
Creatives embrace the new. They're naturally early adopters, easily seduced by new technology. Sometimes they are so dazzled by this sparkly, glittery stream of innovation that they don't listen to their creative gut feeling. Messages get diluted, direction is lost.
Technology isn't the destination, it's one vehicle to get you there. It sounds obvious, but awards juries still have to sit through endless "I've found some new technology and I'm looking for a use for it" case studies.
To be successful, creatives must draw on their life experiences to connect with people, both rationally and emotionally. Their ideas must influence opinion and sell products and services.
The second problem is speed
Thanks to technology, agencies are working faster than ever before – but brains aren't. We can shoot, edit and distribute content in a matter of hours, so allowing days or even weeks for the ideas behind the content can appear excessive and expensive. But we all know there is no better value for clients than great ideas that are well executed.
The third problem is the remit of agencies
Hakuhodo in Tokyo now gets 20 per cent of its income from non-traditional sources, including a books and beer shop. Is this the future of creativity in agencies? Will we be inventors, or incubators for business and product development ideas?
To ensure creativity remains at the heart of their offering, agencies must do three things.
1. Slow things down
What if you take away the blogs and the Cannes case-study films? Bring the focus back to spending more of our time thinking purely about the consumer and the product. Would agencies produce more killer insights that would work in any channel?
We think so. That's why we're working on a new way to bring these "revelations" to the surface (red data, we call it). Creative people are now embedded into this process and, sure, it takes longer, but that's the price we're prepared to pay for compelling insights that drive creativity.

2. Create addiction
Seventy-five billion apps have been downloaded from Apple's App Store – yet only a small fraction are opened more than once. People are deafened by a white noise of tech choice. Agencies that want to win big in this arena need to understand what makes one interaction with technology more addictive than another.
That's where behavioural science comes in. Put it at the heart of your agency's thinking, and you know that the ideas you produce have the best chance of getting your target audience hooked.

3. Be creative about creativity
Within five years, traditional creative department structures will go the same way as those boxy TVs. Is this the age of the polymath? The era of the inventor/psychologist/visual­iser? Or will creative departments be split between product development and marketing specialists? My money's on the latter.
It's intriguing to think being a creative polymath could be the basic criterion for entry to any creative department.
As motivational speakers like to tell us, every challenge is an opportunity.
This era of digital understanding has given us more knowledge about consumers than ever before. We know what they like, what they buy, where they are and when. The trick is to weave that knowledge, seamlessly, into the creative process.
Feed your creatives the data-driven insights they need and you'll be rewarded with highly personalised,
relevant and addictive ideas.
Candy Crush Saga, anyone?


---
John Treacy is the executive creative director at Proximity London