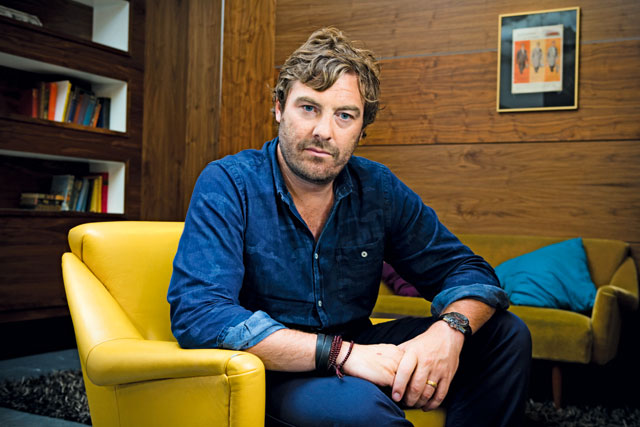 This industry is stuck in something of an ideé fixe. What­ever the brief, whatever the case study, the word "content" pops up. It seems that now the infrastructure of the web is built for most brands, they are finally focusing on what to actually say in this space. I'd love to think this has brought a new era of creative excellence, but it seems rather to have brought an avalanche of shit.
Many clients realise the marketing function needs to be a prolific publisher to stay relevant in a culture moving like bacteria in a Petri dish. But, as agencies, many of us are serving this with a mechanic searching for an idea: the content platform. Whatever that is.
Whatever you think about "content marketing", if you're a brand that needs to differentiate with brand love, you need to be culturally relevant and connected. But culture is a place of ideas, challenging concepts and entertainment – it's not typically a place of messaging. Agencies have been geared up to bring messages into the gaps between culture. If we're going to make stuff that is culture, we need to work differently.
Culture, or at least pop culture, happens at the speed of light: memes live and die, people are fleetingly gripped by something they can barely remember minutes later. We bounce across the surface of often trivial things, giving about seven seconds of attention to each link we're baited to click. This is no place for the ponderous decision-making of many corporates. Entering into that culture means you need to get shit done. And perhaps the hardest thing for brands to grapple with is that success and failure online are largely accidental. It's chaotic.
To address this, we need a creative process that fuses the world of tech start-ups with that of TV concept development. Channel 4 talks about "rivers of creativity" and has no fear of data, using TV audience figures to guide large numbers of creative teams in producing great work.
The Accident Factory model is powered by a similar form of rapid prototyping, combined with upfront data analytics and a recognition that failure is a crucial component of success. It calls for new thinking, new kinds of teams and brave clients. It also demands a rejection of the risk-averse strategies that have coloured creative thinking in advertising, where the systems are unwieldy and too many good ideas go to waste.
Red Bull has built its organisation around a devastatingly effective content operation, in which brand and creative action are indistinguishable from each other. I find it weird that Red Bull is still the only true example, although Coca-Cola has adopted similar practices with real success. Not every client can do it but, using the Accident Factory approach, we can build multiskilled teams to attack a client's creative challenges from a position of deep brand understanding, with a licence to work fast, fail fast and learn faster.
Data is key. To embrace a creative approach that reflects the world in which we're operating, we need to unpick our presumptions. Advertising deals – or thinks it deals – with a world of certainties in which we suppose our carefully chosen approach will work because a client's competitor has done it, or because we've done it before, or because a focus group has told us it would work.
Very often, all of those suppositions are flawed, but advertisers can use media spend to ensure success. That bludgeoning approach, and the fragile rationale of the focus group, is a relic of a lost world. Yet clients still need confidence in the work they're producing. So, rather than spending money on TV ad research, technology allows us to invest that money in data analytics up front, to help reduce risk and increase the probability of successful outcomes.
A lot is said about data and much of it is bollocks, but what is true is that data gives you ways to understand what people are sharing and why. And while it is often considered the antithesis to creativity, we propose that it can be fuel for the creative fire and the foundation for success.
It takes a bold client to back a new approach and have the courage to recognise the limitations of its current creative thinking, which may be numerous. Sometimes, it seems as if brands and agencies are talking at cross-purposes: clients say they want content, but what they really want is long-form messaging that doesn'trequire any media spend. More often, opportunities simply emerge and disappear in a fraction of the time it takes for clients to sign off on a creative approach.
Most of us know that the old messaging days are behind us, but the structures and thinking that once supported them will take longer to change. Moving out of messaging and into content calls for different ways of working, and this way feels right. We have to make content that is good by design. We need to get it into the world fast. And, if we fleetingly look foolish from time to time, at least we'll know that we have learned something.

Chris Clarke is the chief creative officer at DigitasLBi