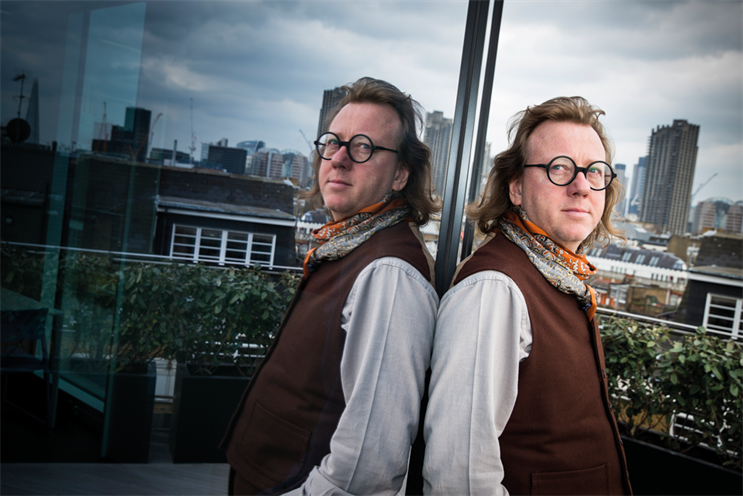 For me, creativity is a way of thinking, not a thing. It is an idea that has the ability to evoke an emotion by making me smile, sparking a memory or making my hair stand on end. It engages my mind by starting a conversation or making me ask: why? This idea is then shared and amplified though the craft of the creative – this is what makes the idea spread, cut through and be more than the sum of its parts.
The best creativity does three things:
1 It delivers a point of view.
2 It makes me ask why.
3 It demonstrates craft.
A point of view
When working in the world of creative communications, part of our role as creatives is to encourage our clients to be brave enough to have a point of view – something that their audiences are increasingly demanding. Recent research has shown that consumers now have more trust in businesses than governments to solve the world's problems. If this is true, the implications are profound – and it means that this is one of the most inspiring times to be involved in communications.
The greatest artists have always delivered a point of view by reacting and playing off the cultural norms and politics of the day. As an artist, it is perhaps easier to deliver a point of view; you have no client. We have seen this in the recent controversy about Ai Weiwei's recreation of the horrific image of the Syrian child refugee taken by Nilüfer Demir. Like it or not, it has continued the conversation and delivered a point of view. Ai has continued to express his point of view by cancelling an exhibition in Copenhagen to protest against a recently passed law allowing Danish authorities to seize property from refugees.
The best creativity is always brave enough to express a point of view and brave enough to deliver a clear narrative, in the full knowledge that not everyone is going to agree. Bad creativity sets out to appease everyone: it is "anywhere architecture" and ideas that could belong to anyone. It talks to everyone and no-one.
Our client Adidas recently celebrated Valentine's Day with a post on Instagram. It featured the bottom half of a same-sex couple, wearing women's Adidas running shoes and leaning towards one another as if kissing. Not everyone was positive about the post, but Adidas demonstrated a clear point of view: Valentine's Day is to celebrate love, wherever it is found.
The brand responded to "haters" with an emoji kiss and a wave goodbye. This was one of Adidas' most popular posts ever, also receiving significant media attention and positive endorsement from third parties. It started a cultural conversation through demonstrating a point of view.
The 'why'
The lens of creativity has the unique ability to make us ask: why? To change our viewpoint and question how things are. Creativity has the ability to do this not only to an individual but to the wider culture, changing the direction of conversation.
The Archigram collective asked "why?" in the 60s and 70s. The architects Warren Chalk, Dennis Crompton, David Greene, Ron Herron, Michael Webb and my old tutor Sir Peter Cook dominated the conversation around the architectural avant-garde.
Greene wrote the rallying call in the first issue of Archigram's magazine: "A new generation of architecture must arise with forms and space that seem to reject the precepts of 'modern' yet in fact retains those precepts. We have chosen to bypass the decaying Bauhaus image, which is an insult to functionalism."
The group went on to influence a generation of architects, adding their own chapter to the culture of the day. In my first meeting with Cook, I expectantly waited for him to set me a design challenge. Instead, he asked me: "So what are you going to explore for the next two years and why?"
For me, inspiring creativity explores the question of "why?". Archigram asked why cities should be static and consequently developed the concept of walking cities that can cluster anywhere – we could spend summer by the beach and winter on the slopes without moving house.
Passion for the craft
For me, the most inspiring creativity demonstrates an absolute passion for the craft, whether the craft of creation or the craft of delivery. It is this craft that elevates the idea to a whole new level – one that can permeate the mind of the individual, a community and society at large.
The craft of creation is exemplified by my favourite Italian architect, Carlo Scarpa. His passion for the craft is expressed both through his architecture and in his role as the creative director of Venini glassworks from 1932 to 1947. So passionate was Scarpa for the craft of glassmaking and so hands-on was his approach that many of the techniques he developed with the craftsmen at Venini cannot be replicated today. He constantly explored the craft of glassmaking – never stopping to ask why it wasn't possible but,
instead, inspired those around him to focus on what was.
Visiting his architecture or looking at some of the pieces that he created for Venini is a constant reminder of the work and dedication that we must put into the craft of creation.
A book that made me ask "why?", had a point of view and demonstrated craft wasThe Age Of Earthquakes, written by Shumon Basar, Douglas Coupland and Hans Ulrich Obrist, and designed by Wayne Daly. It describes itself as a guide to the extreme present.
Published in 2015 and with statements such as "machines are increasingly talking about you behind your back" and questions including "what if there were a drug that made you feel more like yourself?", the book delivers on a point of view and makes you ask: why?
The resulting piece combines the three traits of creativity. And although you can read it in an evening, the ideas it contains linger on in your mind, re-emerging from time to time… this is perhaps where creativity moves to another level.
---
Simon Shaw is the chief creative officer at Hill+Knowlton Strategies and a 2016 D&AD judge