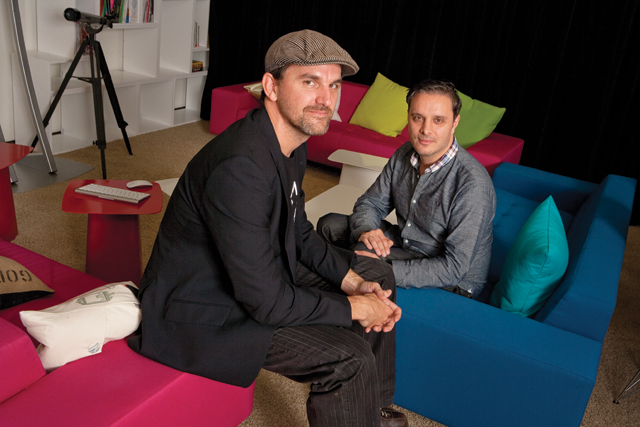 You would be forgiven, were you to be asked, for not really knowing what the Google creative lab does. The key confusion lies in the existence of Google Labs, the portal that allows consumers to play around with prototypes still being worked on by Google engineers; a sort of playground for Android obsessives, if you will. And the confusion thickens when Campaign is told that, within the Google ecosystem, there are in fact "lots of little labs".
The good news for those who remain confused - but perhaps not such good news for self-confessed cyber nerds - is that Google is in the process of phasing out Google Labs. Apparently the move is part of a bid to "prioritise (Google's) product efforts".
The company's 13th year has arguably been its busiest in terms of new product launches, evidenced by the fact that you have to sign a non-disclosure agreement on arrival at Google's offices in Victoria, London, as "you may see or hear information unrelated to your visit that is confidential". Google's products are the creative lab's raison d'etre. It exists to market Google's new offerings - everything from its Android mobile operating system to its search offering - in a creative way.
Until a few weeks ago, Tom Uglow was the boss of the creative lab and the creative director of Google and YouTube in Europe, the Middle East and Africa. He still holds that title, but as Google looks to bolster its creative team in the UK, Uglow has a brand new co- director, in the mould of VCCP's Steve Vranakis.
The appointment turned a few heads when it was announced. Why is this successful executive creative director, credited with turning around the creative fortunes of VCCP and fostering its gold-rush "compare zee meerkat" era, jumping ship to hang out with the Google geeks? And is Vranakis, who shows glimmers of a healthy dose of cynicism bubbling beneath his holy script of Google, the obvious creative to evangelise it?
Google clearly saw dollar signs in the interactive creative experience that Vranakis honed in earlier days at WCRS and FCB San Francisco, as well as his pure creative vision displayed while he was at VCCP. Plus, who wouldn't turn down an opportunity to work for what is arguably the world's biggest brand (not to mention the allure of endless quantities of free Innocent smoothies)?
For Vranakis, whose time in Britain hasn't eroded his Vancouver drawl, the move was a natural next step. "I was very content. This is the key to why I left. I wasn't a disillusioned adman who hated advertising - I loved it. Creativity comes from tension and friction and going to places you've never been before, so when this opportunity came up, I thought it would challenge me and push me. Also, I love the product, I love the company."
Uglow and Vranakis will soon be a triumvirate when Indy Saha, the chief strategy officer of the Omnicom-owned Being, takes on the newly created role of director of strategy at the lab in November. These three will effectively run a small team that you could count on four hands, though Uglow insists that the group believes in operating via a "flat structure".
The UK arm of the creative lab had its origins in New York three years ago, when the creative Andy Berndt was hired from Ogilvy New York, charged with invigorating the marketing team with a creative drive. This in turn spun out into a data visualisation-led creative lab in California. Now it is the UK's turn to have an official pool of what Uglow describes as "designers, technologists, video-makers and storytellers, a lot of whom have agency backgrounds", who form the creative backbone of Google's marketing team.
Uglow, a mild-mannered young man (who, in his black T-shirt and flat cap, looks not unlike a digital media student), explains what the creative lab does: "We work with internal and external partners on big creative projects. It's really a group that allows people to use Google's platforms and tools in creative ways."
More recently, the lab's remit has also expanded to offering user-experience insight to the engineers toiling away on the latest Google products. Chris Wiggins, the digital creative director at the New York lab, for example, had an influence over the design of Google's new black navigation bar that launched in June to highlight the Google+ offering. "If there's something we can add to the cycle, we enjoy that," Uglow enthuses.
One of the biggest products the creative lab has been helping to market since its inception is Google's Chrome offering, the sophisticated browser that pre-empts your search and runs websites at "lightening speed". The main thrust for the campaign, which has been going for nearly two years, was generated by a group of interns at the creative lab in New York. Five graduates plucked from the top design and creative schools to work with the lab for a year in paid positions, dubbed "the Google 5", pushed to tell the story of people's lives through search terms.
And so the spot "Parisian love" was born from within the creative lab: a story of a young American in Paris, who falls in love with a French girl and starts a family with her, all told through the choice of words tapped into a search browser. A simple yet beautifully crafted idea, it tugs at the tear ducts. Google had such a positive response when it launched on YouTube that it decided to air its first-ever TV ad in America last year. In the middle of the Super Bowl.
"Someone made the decision to run it on TV and it was a big thing," Uglow says. "Frankly, we sell targeted marketing; we don't really believe in it (TV). But I think the feeling was: 'If we're going to put a spot out, let's put it in the most-watched American television broadcast of the year.' And so it was placed in the middle of the most testosterone-fuelled celebration that America has. It got a great response."
Google StreetView was another product that the lab (this time in California) had a field day working on. It came up with the memorable viral campaign "the wilderness downtown", which allowed users to create a music video set on the street where they grew up, made possible using HTML5 features and the Google Maps application.
Despite the nascent UK lab finding its feet as it makes strategic hires, it has been involved in projects that have already gone live. A recent piece of work co- generated by the British lab was the arty film Life In A Day, produced by Ridley Scott. The project invited people around the world to record a snapshot of their life on the same day and upload it on to YouTube to be edited into a film.
One of the first pieces of work for Google that Vranakis has worked on is the YouTube Space Lab competition that Google announced last week. It asks the public to come up with an experiment to be conducted in space to explore the possibilities of life outside the planet and upload a video explaining it on YouTube. The winning idea will be performed on the international space station and streamed live on YouTube to the world.
It is these emotive, fascinating projects that the creative lab hopes will remind people that Google makes their lives better. "I think it is all about humanising the technology," Vranakis muses. "I think the minute you begin to show how this stuff can play a role in your life, you know you're doing something right." Uglow adds: "A lot of what we do is about educating the user. It's about knowing the user, knowing the magic and trying to bring those two together."
The creative lab, though creative by design, does not work alone on these campaigns, but with its extensive roster of creative, digital and production companies. Google says it has done the most work with Bartle Bogle Hegarty, M&C Saatchi and Mother; it works closely with the digital company Essence and collaborated with Rehab on the Scott film. But to name any more agencies, Uglow cautions, would be unfair, as they would not be able to mention them all. "There are a lot of agencies and a lot of relationships that are ongoing conversations. It is a very long list," he says.
BBH worked with Google on its recent voice search facility for its mobile app, creating an outdoor campaign that picked up a Cannes gold Lion in the Outdoor category this year (remember those "si-neh-mar-tymz" ads?). The agency has also worked with Google on its ongoing Chrome activity, such as the recent film that told the story of how the 20-year-old entrepreneur Jamal Edwards launched his youth broadcasting website SB.TV and ended up signing a deal with Sony RCA.
But as the lab bolsters its creative offering with high-profile hires, it is natural to wonder if Google still needs its roster of creative agencies at all. "Yes, we really need them," Uglow insists. "Agencies provide scale and all the value of the planning, the strategic input, the production capability and the laser insight that you need when you live in a bit of a bubble. We're a very small team here - there's no way that the Chrome campaign could have happened without BBH." Vranakis is equally quick to defend the need for outsourced creatives: "Agencies are bloody brilliant at understanding people."
Surely, as a client, the creative lab - with all its creative and tech expertise - must be the archetypal nightmare for any poor soul pitching a creative idea? Who in all honesty wants to pitch to a web client equally as creative, and more digitally versed, than them? "Obviously, we are quite a creative group, so it does get collaborative," Uglow replies. "And I'm sure we give a level of feedback that they might not always enjoy."
This week, Google, alongside the Citizens Advice Bureau, launched a campaign, created by M&C Saatchi and Glue Isobar, to explain how the public can keep their data safe online. Products such as Google's new phone, expected to be called Nexus Prime, and Google+ could also receive advertising support. "I'm very excited about Google+," Uglow says. "I think it's a real opportunity - especially for agencies."
Google says the key point of difference between Google+ and Facebook is that Google+ was essentially created to make search more social. "People no longer have to leave a website to have a conversation about that website," Uglow says. "That always struck me as rather strange; you don't have to walk outside the pub to have a conversation about that pub. I'm interested in seeing how we can use that in interesting ways for consumers and where that fits with brands."
Uglow, who has become something of a Google celebrity of late on the media circuit, recently said that he could imagine a future of eye-tracking targeted ads online, where relevant ads popped up where the user's eyes were resting. He tells Campaign that this was his imagination and he was not speaking as a Google ambassador: "I think it's great to play around with those ideas and see where things can go, but I have no idea what our engineers will come up with."
So how different is it creating a campaign for the world's biggest digital brand compared with work for non-digital clients? Vranakis, naturally, takes this one. "In the more traditional advertising landscape, you get stuff and you try to do the best thing you can with it. It's very difficult when fruit juices are more or less the same, cars are more or less the same. You have to make stuff up, and not in a negative way, but you have to create a layer outside of the product to create that bond with people. What's different here is that we have inherently good stuff that is really useful, so we just need to get that message across."
Uglow cuts in: "It's all about this idea of a better web, a better world - the idea of ..." Vranakis chimes: "The web is what you make it," repeating the Chrome slogan.
CHANGING ADVERTISING
Pioneering the cost-per-view model - Google announced four cost-per-view formats for its Trueview video ads on YouTube, where the advertiser only gets charged if a user watches its ad.
Democratising advertising for small businesses - Google's search advertising model, Adwords, allows advertisers of all sizes to compete in its auction, with no advertiser favoured over another on cost.
Developing technology to make ad trading more efficient - Technology improvements, such as the Double-Click Ad Exchange, enable display ad space to be easily traded at scale.
Improving data collection - Google already offers a free analytics tool but has just launched Analytics Premium to provide advertisers and agencies more advanced tools and support.
Increasing transparency - Google recently released performance benchmarks for its Google Display Network.