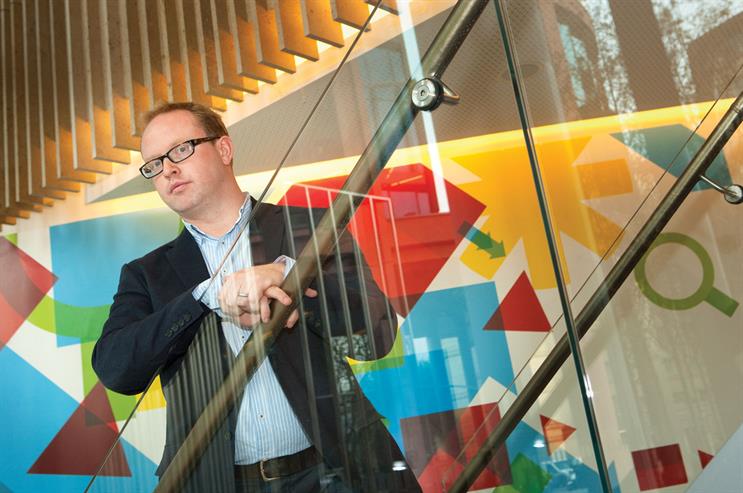 Ben Wood talks a good game for someone who's hot, tired, jet-lagged and thirsty – and whose head, presumably, is still spinning. We've been trying to schedule this chat for weeks now, following his EMEA promotion last month – but our mission takes on a whole new urgency when he's promoted yet again, this time to the top global job at iProspect.
So the interview eventually takes place when we're sitting in the cold grey of a springtime morning in London and he's in the sweltering heat of early evening in tropical Singapore, where he has just arrived, to be anointed at a network conference.
He confesses he's ready for a beer but he's more than happy to talk – and he lives up to every bit of his reputation as one of the industry's more enthusiastic personalities. It's an infectious enthusiasm, even at a distance of 6,700 miles.
His first promotion from managing director of iProspect in London to a new role as the president, UK and EMEA, was announced on 11 April; the second promotion, to global president, hadn't even been press-released when we hooked up on 22 May. That's a hell of a hop, skip and jump to pull off inside six weeks.
So, has it been a dizzying process? Well, yes, he admits, saying, with some understatement, that it has been "exciting". Now, as you'd perhaps expect, he says he wants to focus on the challenge ahead.
His brief in the EMEA job was to take the network to the next stage in the region – now he has been tasked with doing the same on a global basis.
And, indeed, iProspect has been on an interesting evolutionary path. It launched as a search marketing agency in Boston in 1996 – but when it was acquired by Aegis in 2004, it was already evolving a broader proposition in the digital space, and Aegis also accelerated the development of its presence internationally.
IProspect was acquired initially as a resource that could be plugged into Carat or Vizeum offerings either on a single country or a more networked basis. But, over time, the agency has emerged as a network in its own right, attracting clients independently.
It now has staff of more than 2,000 in 50 markets around the world. "We've been growing either organically or by acquiring first-in-class businesses in relevant markets," Wood says.
Now it's time to join the dots on a more concerted basis: "Our model has a big appeal – and we have been developing relationships with clients on a regional and global basis. So, of course we need to become more of a network and invest more in our central team to drive that. We have to become more consistent in terms of the product, the quality of our work and the culture of our business."
'We have to become more consistent in terms of the product, quality of our work and culture of our business'
It's a big job. But Neil Jones, the group commercial director at Johnston Press, says he's not the slightest bit surprised at these latest chapters in Wood's success story. Jones it was who originally lured Wood to Aegis, when he hired him as the joint managing director of Carat Digital in August 2005.
He has an admirable balance of talents, Jones argues: "He has boundless enthusiasm. He's very good with clients, but he's also good with his teams – people genuinely like working with him."
And his career trajectory has allowed him to build a rare picture of advertising in the round – rare because some digital agencies still foster a ghetto mentality.
He was one of the founding employees at i-level ("I started by assembling the office furniture – Ikea tables," he recalls), which gave him ground-floor insights about entrepreneurship in a nascent digital market. But he moved on from there to join the creative agency MCBD, where he picked up an en­tirely different perspective on the ad business.
Since joining Aegis, he has had a number of roles – he was the managing partner at Vizeum for 18 months from January 2007. And after a spell with TradeDoubler, he returned to the group as the managing director of iPros­pect's sister agency Diffiniti in May 2009. Diffiniti was folded into iProspect in June 2010.
So he has a unique take on the market – for instance, he argues that digital agencies have to do more to evolve beyond "the analytical and the techy".
He sums up: "The web is about content and a large part of our role is in producing digital assets and content for clients that will help improve their performance. After all, that's what search is all about. Google is in business to deliver the best and freshest content for consumers.
"So producing sticky content is absolutely vital and creativity is a very important part of what we offer. That's reflected in the people we're attracting to the agency. We now have a heady mix of talent here."
The lowdown
Age: 38
Lives: Kingston upon Thames
Family: Emma, Sam and Olivia
Interests outside work: Cooking and escaping to the country with the family
Favourite music: It changes all the time. Right now, The National
Last book read: Wolf Hall by Hilary Mantel
Desert island luxury:
Spotify on 4G
Motto: Keep it simples