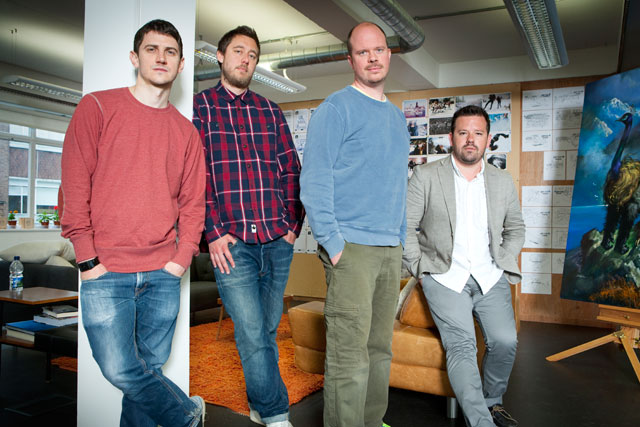 The team at Creature of London has deliberately ducked the spotlight often directed at a new agency. Rather than posture publicly about their aims and approach, partners Stuart Outhwaite, Ben Middleton, Ed Warren and Dan Shute decided the work should be the thing that did the talking. "We didn't want to be one of those agencies that sit around talking about how they're going to change the world without having done anything," says Shute.

Now one year old, their output is a reflection of the agency's commitment to creativity and collaboration. Busy doesn't even cover it.
There's been an award-winning short film, a theatre production of Eugene O'Neill's play The Hairy Ape and the launch of their own honey brand, Amazing Stuff, produced from bees kept on their London office roof. And then there's more traditional agency success such as new business wins from the likes of Adidas (over Bartle Bogle Hegarty and Mother), Moo.com and the Science Museum and work for existing international clients of the Creature network such as Microsoft.
The phrase "prolifically creative" is one that punctuates a conversation with the team and one it uses as a measure of its success.
But it's Creature of London's unconventional creative agency model that has earned its partners the title of A-listers-in-waiting and brought them this profile in our series of "Tomorrow's Talent", sponsored by A-List partner LIZH.
The agency is in good company alongside previous picks for "Tomorrows Talent", such as Robert Doubal and Lolly Thomson, ex-Wieden and Kennedy and now executive creative directors at McCann Erickson, and Niku Banaie, the chief innovation officer at glue Isobar. [See more from them below]
Bonnie Harold, the creative headhunter at LIZH explains: "They are a brilliant collective of inspiring people. These guys have a genuine chemistry and creative understanding that has driven them to start and grow this fledgling London offering of the US-based agency Creature in what could be said to be very uncertain times. Together, they have an infectious enthusiasm for making stuff and building brands that they really believe in and, most importantly, having a lot of fun doing it! They are carving out a place for their new model creative company by being true to themselves both creatively and commercially."
While many creatives and agencies have their side-projects, film-making, theatre-production and bee-keeping are central to "making stuff and having fun" at Creature of London.
"We agreed early on that what we want to do as an agency is create cultural impact for our clients, collaborators and for us as a company," says Shute. "It comes from being absolutely a good advertising agency, but also from being more than that. If you want to be a genuinely creative company, then you don't have an excuse for sitting around and not creating stuff. Creative companies have to be proactive as well as reactive."
So, although producing The Hairy Ape may have turned 12-hour days into 16-hour days for a couple of months, Shute says it taught them "a ridiculous amount, about going the extra mile to understand creating stuff and the culture in which that is created."
Making their own honey has given them a valuable understanding of managing a brand, from production to identifying supply and demand. The idea fitted perfectly with what they wanted the agency to be, says Warren: "busy little creatures making amazing stuff. We thought we were being clever and pithy, but it's bloody hard!"
Far from being add-ons, gimmicks or vanity projects, the knowledge and experience gained from these unconventional agency pursuits inform future collaborations, whether commercial or not. Creature of London now claims to have an interesting network of creative collaborators.
And such open-sourcing encourages serendipity. It turns out that the movement consultant for The Hairy Ape was a valuable person to call upon when producing recent work for Adidas and Footlocker, for example. "You can't predict how one thing is going to help you… but everything does and often in ways you weren't expecting," says Shute.
"The barriers between the creative industries are becoming porous, and all good clients are capitalising on this at the moment - thinking about how they can do things that are outside the realms of what traditionally has been called advertising," Warren adds.
The insight and approach seems obvious, yet few agencies seem able to carry it off with such élan. As a young, agile agency (with inhabitants of a median age of 31), Creature appears perfectly positioned to carry the philosophy through. At its heart is the striking relationship between its four partners.
Despite different backgrounds, they've all arrived at the same point of view, though the free flowing conversation and laughter makes it seem as though they've been doing all this together for years.
Both wanting to get into advertising from a young age, Middleton and Outhwaite met at university where they formed a creative partnership. Their talent was immediately recognised and seized upon by Mother, where they were given a two-week stint, swiftly followed by permanent job offers.
There the duo remained for nearly eight years, working on brands such as Pot Noodle and PG Tips, for which Mother is renowned. Outhwaite describes the pairing as "two geeks uniting to form a mega geek".
Warren and Shute, on the other hand, came to advertising a little later. Having studied Chinese, Warren was taken on at Lowe as a graduate in account management. He moved into planning and then into strategy at DLKW, where he met and worked with Shute. Moving to Mother, Warren joined Middleton and Outhwaite to form a creative threesome. "I've kind of been working my way through different disciplines towards receptionist," he jokes.
Following a successful summer placement at Ogilvy and Mather and having studied French and Spanish at University, Shute was taken on permanently. "I fell into it, but it happened to be a very nice industry to fall into - full of smart people who want to make good things," he says. He moved to DLKW and then Glue Isobar, before becoming the fourth partner at Creature.
The relationship between the four appears tension-free, despite the struggles that must beset any start-up. Sharing the same philosophy from the outset, working together has only "gotten better and better", says Middleton. Chatting with them reveals an easy-going but focused excitement; each uses the word "exciting" as much as the word "terrifying", often to describe the same thing.
Middleton likens Creature to balancing on the back of chair legs - a fine line between getting away with it and cracking your head open. "Its not a place to come and be comfortable, we want people to feel a bit scared," Shute admits.
"It's weird," Middleton adds. "For an industry that's populated by so many different people, they're very happy sat in their box. This is a place where really good creative dreams can come true. As Disney as that sounds, I think it's a poignant point. Not a lot of companies hire people for that, they hire people to fit the business. I think its people first and job title second."
Discussing productive creative partnerships before joining Creature, traditional roles such as director and copywriter didn't necessarily come up. "Rather than try and fracture the agency into these type of discreet disciplines, we have clear responsibility but open permission," says Warren. So it's clear what your role is but you've got permission to do anything. We have just two departments - thinkers and doers. There's a reason that agencies do their best work when pitching; those hierarchical barriers tend to come down and it's just people sat around the problem."
It's easy to see how this thinking fits with a client like Moo.com. A similarly young and creative business, it is willing to push the boundaries as it ventures on to TV for the first time with spots featuring entrepreneurs such as Michael Acton Smith, the creator of Moshi Monsters and Fraser Docherty, the founder of Superjam.
And alongside work for big, grown-up brands like Adidas, Footlocker, and Microsoft, Creature is set for another busy year of "making stuff and having fun" in whatever guise.
On the schedule so far is the launch of a butcher's shop, the publication of a book, a collaboration with a local charity and a musical, Church of Now That's What I call Music 23, that the team has written and produced and will take to the Edinburgh Fringe.
"It's essentially a celebration of what we have unilaterally declared the finest, not just compilation, but album of all time Now That's What I Call Music 23," Shute explains. "Choral re-workings of classics, such as Charles and Eddy's Would I lie to you?, E17s House of love, Ebenezer good by the Shamen, with a well known stand up comedian acting as the reverend."
This wonderfully bizarre premise is validated by the fact that it will be hosted on the BBC comedy stage with the prospect of a run in London afterwards. Or maybe Vegas, jokes Outhwaite. With previous form as the creators of Pot Noodle the Musical, it could very well happen.
One thing is for sure: Creature of London can award itself that prolific tag.


One thing is for sure: Creature of London can award itself that prolific tag.