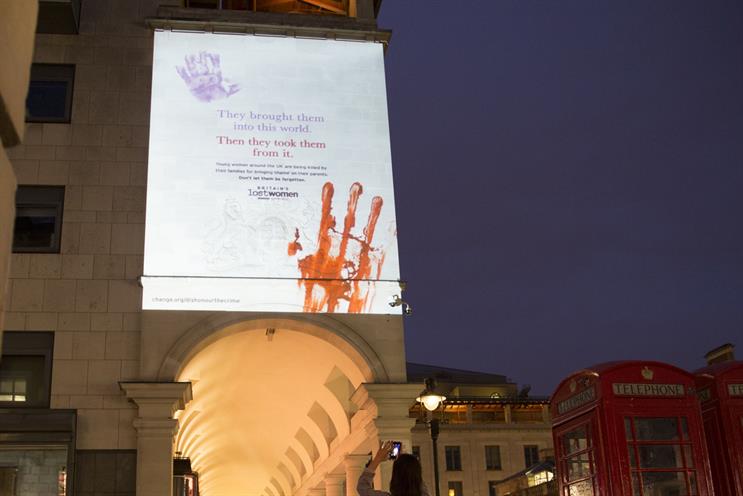 The image has been projected onto Covent Garden's Royal Opera House to mark David Cameron's Girl Summit being held today (Tuesday).
Creature London competed with Adam & Eve/DDB and Leo Burnett for the brief to create an emotive and shareable visual that could be used both in print and online to portray Cosmo's campaign to raise awareness of women murdered by their families in the name of "honour".
Cosmopolitan editor-in-chief Louise Court, founder and chief executive of Karma Nirvana Jasvinder Sanghera, president of children's charity Theirworld Sarah Brown, UK director of change.org Brie Rogers-Lowery, Campaign editor-in-chief Claire Beale and BBC Breakfast reporter Naga Munchetty, judged the competition,
Court said: "The image tells the story of our campaign so succinctly, and so poignantly, it answered the brief perfectly and will be a major asset to our campaign."
Beale said: "For me, the most powerful image was the Creature London image. It was powerful, and local - reminding people that this is an issue for us, here and now, and not just an issue happening on the other side of the world."
Cosmopolitan is campaigning for an annual national day of memory to take place from next 14 July on Shafilea Ahmed's birthday. Ahmed was suffocated by her parents in front of her siblings when she was 17 for supposedly dishonouring her family over a proposed arranged marriage.
Dan Shute, managing partner, Creature London, said: "We were honoured to be asked to participate in such an incredible movement, and blown away that our ad was chosen.
"We will never forget Britain's lost women, and we will do our damnedest to ensure that nobody else does either."