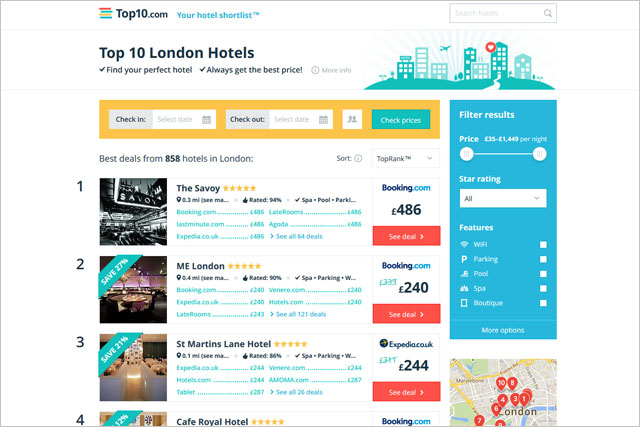 Creature London won the account after a competitive pitch handled by Top10.com. It is now tasked with creating an above-the-line campaign that will air in the UK later this year.
It will be the first time that Top10.com has advertised on TV. The company has previously relied on social media and search advertising.
Tom Leathes, the chief executive at Top10.com, said: "We were looking for an agency that properly understood the challenges for a new brand in a busy market.
"Creature really got our vision for simplifying hotel booking, and we fit well with their collaborative approach."
Top10.com is yet to hire a media agency.
Dan Shute, the managing partner at Creature, said: "Top10.com is a great product that makes booking the right hotel ridiculously easy – we're stupidly excited about helping the lovely people behind it build one of the great brands of the future."
Top10.com invites users to search for hotels in specific areas and then creates a list of the most appropriate ten by drawing on review scores, popularity, and price. It has received around $12.5 million (£7.4 million) in funding from investors, to date.