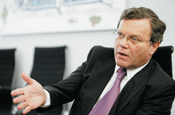 Sly Bailey, chief executive, Trinity Mirror
We are undoubtedly in a period of profound economic downturn that is having an inevitable impact on consumer-facing media businesses. The key driver of advertising budgets is corporate profitability: when profits are under pressure marketing budgets get cut. As media businesses, we can't defy the gravity of the ad markets, but we can influence the way we run our businesses so that we come out the other side of the downturn stronger and more resilient.
Traditional media companies need to change to be part of the future and for newspaper businesses that means being prepared to rethink the entire publishing process, replacing obsolete processes with modern technology and working practices. At Trinity Mirror we took action early and we continue to do so.
There's also a transformation taking place across media, with digital at its heart. This brings challenges but also new opportunities for publishers. But the economics of digital are different. Building new digital audiences is the right thing to do. But we have to be able to convert those users to revenue and then to sustainable profit. Our business models have to be sound and our investment plans have to be able to withstand short-term economic shock. This is no time for vanity publishing. There are tough times ahead but the strongest, most resilient and most innovative will survive.
However, a multimedia age needs regulation to match. Competition regulation needs to reflect the transformation taking place when considering mergers. Current regulation ignores the way consumers and advertisers behave and could damage the growth and health of the industry
Stevie Spring, chief executive, Future Publishing
The credit crunch means there is less cash available - and unprecedented caution among investors. Equity markets have fallen out of love with certain sectors, fearing consumer spending and advertising will fall. Share prices of some media companies have plummeted 90%. There isn't much we can do about adverse sentiment towards consumer-facing businesses, but cash is king more than ever. So micromanage the cost base; keep it flexible; manage bank facilities; avoid acquisitions that add disproportionate debt.
John Ridding, chief executive, Financial Times
The most important thing is to remain committed to quality journalism and have confidence in the value of content. At a time of crisis there is increased demand for reliable, accurate, news and analysis. Readers want a trusted guide through the turmoil.
Sir Martin Sorrell, chief executive, WPP Group
Financial difficulties have been going on since August of last year. In the real world we're seeing a tightening in the second and third quarters of 2008. There are still large parts of the world enjoying growth, throughout Asia-Pacific, Latin America, Africa, Middle East and Central and Eastern Europe, but I can't believe the world is decoupled. At some point, it is almost inevitable that the world will catch up with the US and Western Europe. Even if there is a correction in these markets, we're still looking at growth three times the current rate of the US and Western Europe.
We've been saying for a couple of years now that 2009 will be a difficult year. It is certain to have an impact on traditional media more than online, but with online now commanding some 10% of adspend and growing it will be felt there too. Life is going to be quite difficult for traditional media as the temptation in such downturns is to cut marketing budgets.
For what it's worth, I believe financial markets will start to pick up by mid-2009, almost as quickly as they fell away. If this is the case, it will be felt in the real world by 2010, when there are five key events taking place that will help breathe life into the global economy, including the UK: mid-term US elections, Winter Olympics in Vancouver, football World Cup in South Africa, Shanghai World Expo and the 16th Asian Games in Guangzhou, China. The mini-quadrennial year will have a more positive impact on the recovery in 2010.
When times are tough it is time to invest, not cut. This comes from years of research dating back to Ogilvy's Alex Biel and Millward Brown interaction surveys. All show that, if we cut marketing during such times, the impact is damaging and it can take you longer to get back to where you were.
Of course, this is easy to say, but harder to do. The Pavlovian reaction is to cut, but the media industry can learn from someone like Rupert Murdoch, who historically has never done that. You'll see him investing in editorial and products at a time when other people are throwing the baby out with the bath water. The talk to do ratio is high, the doing is low.
Mark Howe, country director, UK, Google
Luckily, Google is still a growth business, due to its accountability and the opportunities for search to still be appreciated by marketers. In fact, we're still hiring staff and still very much in growth mode, so it's not impacted that side of the business in any shape or form.
Like anything we're seeing in the banking sector/financial sectors, business is about confidence and the moment any company looks to try and recoup and drive bottom-line profit, they look for easy budgets to cut and marketing and advertising are some of the first, so there will be a lot of conservatism and reluctance to plan too far ahead into next year, so we will see a slow start to next year in the overall ad market. The media industry has got some more flattening out to come.
Adrian Jeakings, incoming chief executive, Archant
The economic environment continues to be uncertain and the extent to which it will deteriorate further is not clear, but there is still a stream of negative stories emerging from the world economy.
Economic uncertainty has hit regional newspapers harder than many other sectors because of the importance of property and recruitment advertising in our revenue mix. None of us need reminding about the state of the UK housing market and there is a cyclical downturn in employment. Print advertising is also affected by an underlying structural change, with the migration of some marketing expenditure to the internet.
It is too early to tell how long the economic downturn will last, but we do not expect things to get any better before the end of 2009. We are positive about the role of the regional press in the future and our current challenge is to manage through the downturn.
The current economic environment places a much sharper focus on activities that have a marginal value to our customers and us. We are looking at everything we do to make sure we are putting most of our effort into areas where we can make the greatest difference. We are also continuing our investment in web-based activities.
Steve King, chief executive, ZenithOptimedia EMEA
Ad-spend as a proportion of global GDP is at its lowest point for 20 years. In 1990, at the start of the last significant economic downturn, the figure was 1.04%. In 2000, the figure was 1.05%. For 2009, we forecast ad spend will be 0.9% of global GDP. This is a significant metric and can be used as justification why ad spend levels are more robust and sustainable than the last two recessions.
Iain Jacob, EMEA chief executive, Starcom
Batten down the hatches is so often the call of the turndown. Having been through three such times, it is clear to me that such turndowns are in fact one of the most powerful catalysts to structural change.

Post the dotcom bust, a much more robust and accountable digital sector emerged. The early 90s recession, much tougher than the dotcom bust, more similar to today's turndown, ultimately stimulated radical change in marketing services - the accelerated separation of media, the rapid consolidation of media buying services to name two.

The last five years of growth has in fact protected marketing services from long overdue structural change. Further consolidation in media services would occur, maybe not for a year given the cost of credit - but it will happen. Marketing service holding companies will seek to cull the mass oversupply of agency brands that was their response to growth and conflict management.

The demise of cheap credit will finally spell the end to the acquire and list at a higher multiple growth syndrome. Until now, groups such as WPP typically bought private companies at a 5-10 times multiple of earnings. Once they have bought them, their earnings are valued within the public company at whatever the price earnings ratio of the listed stock, typically 16-20 times. So you ended up spending £100 on a private company for it to be listed at a value of £200: basically appearing to create value over night.

That model is broken now. Private digital companies are typically listed above 10 times and public companies are typically trading closer to 10 times, so this is not a shortcut to value creation any more.

The bottom line is that agency holding companies need to create more effective organic growth, rather than just being very good at buying stuff.

And structural reintegration of services will be the name of the game. See how quickly digital is already being bought into core agency service; next come mass CRM, data management and analytics, shopper marketing and so forth.

The new, consolidated model will be more structurally healthy and better equipped for the future.

Guy Phillipson, chief executive, Internet Advertising Bureau
In total, the advertising sector is less healthy and, overall, advertising has suffered. In internet business and among media owners there has been some reorganisation to improve efficiency - a few jobs here and there being streamlined - but I am not aware of any whole cuts from any of our main members. There's a focus on efficiency during these leaner times.
Advertisers are putting more concentration on maximising direct response. The internet is the most efficient direct response machine ever invented. Online ad spend has held up with good growth. The online industry is bucking the trend and propping up the advertising industry. The second half of 2008 will be up compared to the first half of 2007 - the figures are very healthy.
I don't think we are over the worst of the downturn, and these are very uncertain times. It's a brave person who predicts their spend, even three or six months away. I agree with Sir Martin Sorrell that 2009 would be a tough year and we'll start to come out of it in 2010.
Stuart Taylor, deputy chief executive, GMG Radio
Obviously the economic downturn has impacted on our revenue, but it hasn't prompted any drastic rethinks. We are actually in a growth phase at the moment as we are launching stations - so we're actually hiring people. However, we are not immune. We are focusing on speeding up our strategy and investing in content and people. Autumn will be better than expected and after January it could improve, but it all depends on consumer confidence.
John Cresswell, chief operating officer, ITV
We started to pre-empt the slowdown in the advertising industry in May and we have been looking for efficiency savings across our business. We announced that we will be saving £35m by the end of 2010 and we have already announced we will be saving £40m from cuts to our regional news business. Putting those two things together, roughly 1,000 staff will leave over next few months.
There have been no strategy changes. The cuts are designed to protect our strategy and core products - the channels. We have to make these cuts so we can still invest in our key products. You have to hold your nerve, keep investing in quality product and take tough decisions early.
There is an opportunity from ITV's point of view, by trying to maintain our share of the market so we come out of this economic downturn - we are well positioned to take advantage.
Donnach O'Driscoll, chief executive, Absolute Radio
Obviously it's a difficult environment for everyone - and we need to be as creative as possible to get through these times. We have only owned our company for 90 days or so; it's very early for us. We are in the process of going through the structure of the business and figuring everything out. Ironically, we are actually a spender in this market at the moment and creating a new brand.
Brendan Condon, managing director, international, Platform-A
The economic downturn has affected us in terms of our client base asking more sophisticated questions and looking for greater accountability in their marketing spend. It has prompted clients to be much more diligent in getting accountable, measurable results. People are getting more and more cautious in terms of spend, but clients who have used our systems and proved it works will come back.
Media could actually benefit from the upside in macroeconomic terms, but if we see further contraction in consumer spend then obviously marketers won't spend as much and media owners will suffer. As people deal with the economic downturn they are looking for efficiency, and they will look to the bigger players in the market to get better efficiency in their all-important branding campaigns.
David Roddick, commercial director, Northcliffe Media
It would be foolish for me to sit here and say we are unaffected by the credit crunch and the crisis that's going on at the moment. Local media owners are affected most directly because they're hit first because of the exposure to the property and recruitment markets.
But that doesn't mean everyone else is immune. The economy always goes in cycles and we have to deliver as much value to advertisers as we can and structure ourselves so we can take full advantage when that cycle turns around again and advertising expenditure does bounce back.
Tim Bleakley, managing director, sales, CBS Outdoor
Clients will do one of two things: they will try to get the same media at a cheaper rate. They will want 100% of what they currently have at 20% less cost. Or they will go for what they know works. If a media owner has something like that they're probably still selling quite well. There will still a demand for t-side bus packages going down Oxford Street, especially in the run-up to Christmas, just like there will still be a demand for ads on Friday night on Channel 4 or primetime ITV.
Dennis Turner, chief economist, HSBC
We should not get carried away with the current financial climate, although for many it'll be a new experience. We have enjoyed 63 consecutive quarters of positive economic growth - some 16 years' worth. In real terms, this sustained rise in GDP means the economy has grown 52% during that period, compared to 29% growth in Eurozone. A recession is an economy correcting itself: it does not mean we are falling off the edge of a cliff. Since the last financial meltdown of 1992, the Bank of England has been instructed to keep inflation at 2% in the long term, and interest rates have been set accordingly. This time next year we will be looking at inflation moving back and the smart money says that means 4% base interest rates once again in 12 months.
The UK economy would be where it is today regardless of the credit crunch. The collateral damage so far to the rest of the economy has been minimal, but the crisis in the financial markets is a risk. The plumbing is blocked and it needs to be cleared.
But make no mistake, when the economy does recover the credit world will not look like it did before. It will be a chastened and much more risk-averse financial sector that emerges from this. As for the next 12 months, we do not need to have an acute long recession. But we can have one if we want to convince ourselves this is what must happen.
Barry Sayer, chief executive, Clear Channel Outdoor UK & Ireland
Companies need to look at streamlining their businesses at this time; our new owners have already helped us do that. We have a revenue-share deal with our landlord; which cuts costs. Clear Channel now has a funding deal in place for the next seven years. Once things have stabilised, people will see they need to spend money on marketing to continue to sell products. They'll come to realise you've got to get back to selling products.
Julian Jordan, executive director business and operations, UKTV
Obviously the downturn is affecting television as a whole, as it's affecting all sectors and we expect the year as a whole to be down c4% including a drop off this autumm. However UKTV's revenue is showing considerable growth as we continue to grow our market share.
Our strategy is to continue to invest in our core business and we're spending money on research and creative work in rebranding our channels. We're also spending money on marketing and we're very confident of weathering the storm. That's not to say we're complacent about it, because next year is going to be extremely tough. I have absolutely no doubt the people who come out of next year will be the players that stay focused and true to themselves in terms of their core product and understanding what's driving value in the business.
We are also investing in new platforms, in a measured way where we can see value and commercial benefit.
Moray MacLennan, president, IPA and chairman, Europe, M&C Saatchi
My experience of previous downturns suggests they have a tendency to accentuate the strengths and weaknesses within a company. I'm one of life's optimists and I like to look for the silver lining of any cloud. There will be opportunities for the strong and the good, and they will be sought out by clients with greater vigilance than when things are going well. They are looking for people who are more creative, have a different point of view and an alternative way of looking at things, who are proactive and being seen to react to the difficult times.
An agency almost needs to be schizophrenic in a downturn. On the one hand you need to be incredibly tied down in terms of costs and accountability, because that's what your clients need. On the other, you also need to avoid becoming paralysed by it.
It will be well into 2010 when we feel a full recovery. It's possible that the bail out packages will work, the banking systems will swing back into action, everything else will pick up accordingly and in six months time it will be fine. But it's much more likely that we've all decided we want a recession, which means there will be one, and it will be felt for the next 12-18 months.
Jed Glanvill, chief executive, UK, Mindshare
I think you would be very naive to think that the current economic turmoil will not have an effect on the media industry next year. Yes, the problem is centred on the financial sector and the circumstances are historically unique, but we are already seeing the negative knock on effects of a fall in consumer confidence. I think the key overall effect on the media industry will be a kind of accelerated Darwinism. In other words, the stronger, both old and new, media owners and agencies will get stronger and the weaker will struggle.
Ian Armstrong, customer communications manager, Honda's
In times of stress, people and organisations tend to revert to type. This may be different to the brand position, so keep close to the client and the constraints in which they are operating. Offer up solutions that make it an easy decision to buy your product. Put the product in a place where there is a risk it might be sold. Now is not the time for emotion but a time for sales, so be in a position where you can demonstrate the effect of the activity.