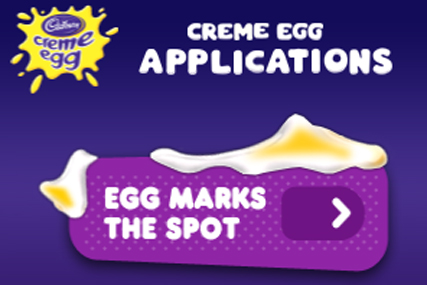 The first, called Scramble the Egg, is an interactive app which invites users to shake a virtual Creme Egg around the screen, until the egg becomes so excited it bursts its goo all over the screen. Users can also slide and spread the goo around the screen with their fingers.
The second app, called Egg Marks the Spot, encourages people to visit one of 38 landmarks in the UK and Ireland, including Edinburgh Castle and the London Eye.
The app uses the iPhone's GPS to guide people to their nearest landmark, where they are supposed to use their cameraphone to take a picture of the landmark. A Creme Egg is superimposed over the picture and users can move it around the screen.
Users can also click through to www.cremeegg.com to see if they have won a daily giveaway prize.
Both apps are free to download. Once downloaded, the applications will still be accessible after the Creme Egg season finishes on 4 April.
The apps have taken their lead from Cadbury's 'Your country needs goo' digital campaign launched earlier this year.