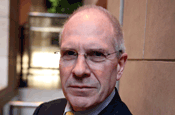 Press reports at the weekend suggested that the offer could value Creston shares at 80-90 pence, a considerable premium to its current share price of 54 pence.

The deal is in the final stages of due diligence, according to the reports.

The buyout would retain Creston senior management, including chief executive Don Elgie and finance director Barrie Brien, to run the business.

A committee of non-executive directors has been appointed to oversee any possible deal.

The company's share price climbed by 28 per cent on Friday after the company said it was in discussions "regarding a possible offer". Shares fell again slightly this morning.

Creston added that there was "no certainty" that an offer would eventually be made.

Creston's share price has fallen dramatically over the past 12 months, despite reporting positive financial results over the same period.