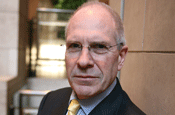 The service aims to help brands engage more effectively with consumers in the social media space.

An Omnibus survey, carried out by a Creston company, ICM, identified six key motivations for consumer engagement with social media.

This research formed the basis of Creston's strategic framework for the new service. The six areas are discovery, altruism, social, fame, escapism, expression.

The research found that the top motivation for engaging with social media was discovery (67 per cent). In second place came altruism (60 per cent) and in third came social (59 per cent).
Don Elgie, the chief executive of Creston, said: "It is no longer viable for brands to look at social media as purely a tactical marketing must-have. Ensuring the brand's Facebook page is up-to-date or converting TV content for YouTube is no longer enough."

By understanding and incorporating consumer motivation at the planning stages of a campaign, brands can then engage with consumers in the most appropriate manner.
Creston Group companies include Delaney Lund Knox Warren & Partners, TMW, ICM Research, Marketing Sciences, CML Research, PAN Advertising, Nelson Bostock Communications, Red Door Communications, The Real Adventure Marketing Communications and EMO Group.