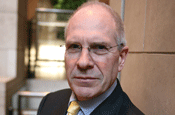 The Group also reported a headline operating profit margin after head office costs of 18 per cent.
Creston, which is run by chief executive Don Elgie, put the results down to a string of new business wins across its divisions in the third quarter of the year, which included COI, Unilever (Lynx), Boehringer Ingelheim and Spicers.
Only 21 per cent of the Group's revenue was reported to have come from advertising, with more than 70 per cent of the income coming in the direct and digital marketing, healthcare marketing and market research sectors.
Based on the nine month trading performance, the Group remains on course to meet expectations for the current financial year.