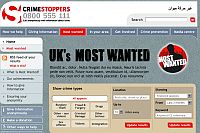 The move comes as Crimestoppers seeks to open up a second revenue stream from online sponsorship, whilst at the same time consolidating its position as the UK's 'one-stop' shop for anyone wanting information on crime.
The charity is currently seeking a title sponsor for the new site.
The current Crimestoppers site receives an average of 580,000 page impressions per month, the majority generated by its 'Most Wanted' section.
However, when carrying particularly high profile public appeals, such as recently with Madeleine McCann visitor numbers can reach more than 7 million.
Online media planning is being handled by Adknowledge, with design by Precedent Communications.
New interactive elements, including user polls and RSS feeds, as well as an appeals management system to gather crime information, will feature on the Crimestoppers website.
"Crimestoppers is independently run and financed. It relies heavily on corporate support and donations from members of the general public," said Crimestoppers CEO Michael Laurie.
"The internet has already shown its value in getting our message across and through Most Wanted, directly solving many crimes. Additional funding through online sponsorship and advertising will enable us to build a powerful web based capability, reaching far more people and making a significant impact on crime. "