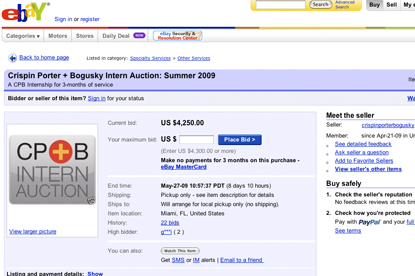 Interested parties can bid for them, with all of the money going to the interns themselves to augment their wages.

At the time of writing, the bidding, which started at $1, stood at $4,250.
The winning bidder will receive a creative presentation from the intern, consisting of strategies, concepts and recommended brand positionings, but not finished ads or production materials.
However, competitors of CP&B clients such as Pizza Hut or McDonald's should not apply, as the small print states that the agency "reserves the right to decline services in the event of a conflict with any of our existing clients or for any other reason (like if you sell cigarettes) in our sole discretion".