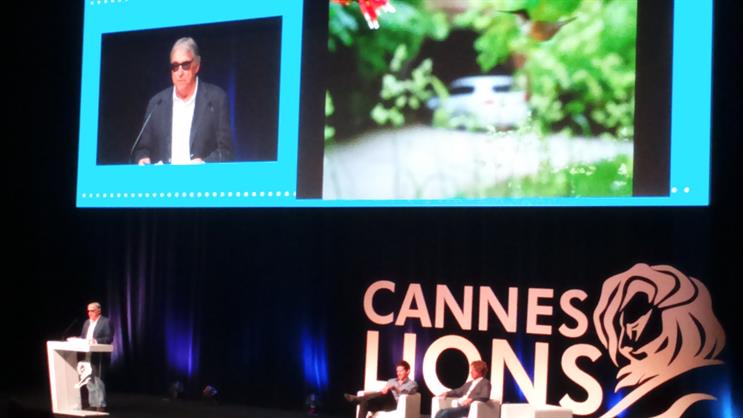 Chuck Porter, founder and chairman of CP&B, Andrew Keller, the agency's chief executive, and Neil Riddell, the executive director of product innovation, spoke at Cannes Lions International Festival of Creativity yesterday (23 June).
Porter kicked off the seminar by talking about what CP&B had learned from its different kinds of work, from TV ads to helping to launch a Boris-bike style initiative in the US, which is called B-cycles and has spread to 34 states.
He joked: "I was going to talk about the apps that we've made but I won't. Everyone and their brother makes apps now and no one gives a shit."
Porter then spoke about Angel's Envy, a premium bourbon whiskey that CP&B helped develop and launch, and then sold to Bacardi in March.
He said: "I think we sold it for a lot of money. If you think more than $100 million is a lot of money then you will think it, too."
Riddell then took to the stage to talk about CP&B's three-legged stool model, where the creative agency handles product development, brand building and strategic direction, but finds partners for operations and business management.
Keller, the final speaker, talked about CP&B's manifesto, which the agency wrote to create a context for its new approach and responded, he said, to the marginalisation of the ad industry's craft and talent by the business world.
Keller said CP&B vowed to no longer be service vendors, but "true equity partners": it would own the work rather than selling it, and that it would no longer bow to metrics set by clients. It would instead use purpose as a measure of success.
He said: "People asked why we didn't do an accelerator or an incubator. We've been unimpressed by a lot of those approaches and think these approaches game the system, by just hoping some of [the startup companies] make it.
"We're about owning companies and building brands. Accelerators seem to push people out just when need the help the most.
"We are looking to expand the role of the creative agency."