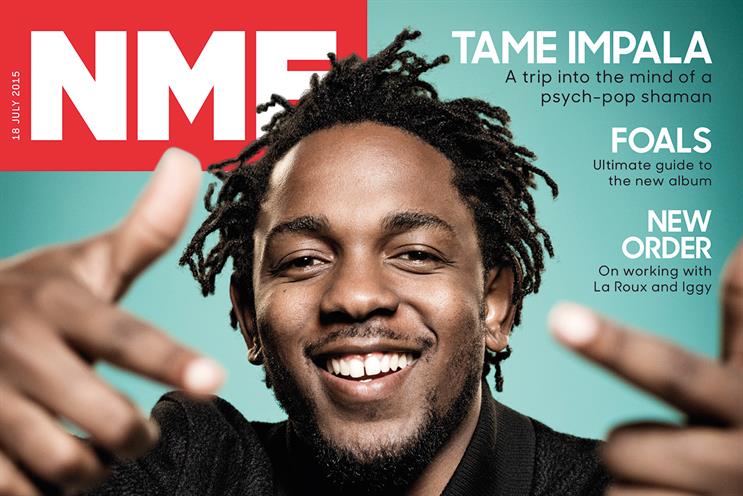 NME, once the rebellious, grumpy teenage voice of the music industry, will be reborn in September as a mass-market freesheet, with 300,000 copies handed out at stations, colleges and stores every Friday.
But many wonder whether it will retain its acerbic, anti-establishment stance on popular culture or become the greatest rock 'n' roll sell-out since Mick Jagger accepted a knighthood.
The music title's paid cir­culation has fallen to less than 15,000 as today's teenagers keep their heads buried in their mobiles. While it has built a successful digital and social presence – with five million unique visitors to the website each month – half of UK youth have never even heard of NME, research has found. The brand has grown older with its legacy audience.
Its owner, Time Inc UK, vows to make the free title a gateway into broader content, with pieces on film, fashion, TV, gaming and even politics.
Increasing its appeal so that hundreds of thousands of students and commuters will accept the magazine when it is shoved into their hands will mean making NME far more inclusive. Many think it will resemble ShortList and Time Out, both highly successful free magazines. But Catie Dear, who heads music at the7stars, says: "To succeed in being inclusive, they are in danger of diluting the brand. There will be a renaissance to start with – a nostalgia element – [but] will the novelty wear off after its initial success?" She says that Time Inc UK's predecessor, IPC Media, looked at taking NME free three years ago but "bottled it". Dear adds: "It feels too little, too late."
Romano Sidoli, the group advertising director for specialist titles at Time Inc UK, says that the freesheet will look to massively expand the youth appeal of the brand and target the younger end of the 16- to 34-year-old market with distribution through colleges. "Sixteen to 25 is where we have lost circulation," he confirms.
"A lot of people read the release about NME's brand transformation and thought it is not about music, it is going to become like ShortList. It won't. We are going to make the best of how music influences wider things," Sidoli adds.
Two-thirds of the copies will be distributed outside London, giving the brand broad nationwide coverage. "We know we will play an important role for mass-market brands," Sidoli says, and believes readers are willing to make the trade-off between advertising and free content.
The need to attract more generalists, and with them more mainstream brands, is not lost on Dan Boosey, the client director at Mindshare. Noting Nielsen figures that show NME's advertising revenue at £600,000 in the first half of 2014, he thinks the potential is there to broaden out.
"It puts them in a similar position as Time Out and ShortList from an advertiser's point of view; they'll be chasing the same kind of advertisers – alcohol, telecoms, ticket sales. It will be good for advertisers," Boosey says.
Meanwhile, Adrian Pettett, a former marketing manager at NME and now the chief executive of Havas Sports & Entertainment Cake, says a measure of success as a free title will be whether its cover is still the premium slot for upcoming bands to be featured.
And the ex-editor Conor McNicholas, now the chief executive of the content agency AllTogetherNow, says: "There is an NME attitude that can be applied to all sorts of things. It has massive potential and a lot of advertisers will be very excited. If it works, it will just be brilliant."