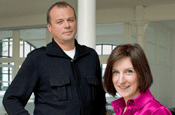 Crouch will take the majority shareholding in the new venture as founding partner and chief executive, while Addis will hold a minority stake as partner and managing director.
Audacity launches with a founding client, the Ferrero chocolate brand Kinder Bueno. The account was previously handled by Dreamcoast, the Nitro conflict shop.
The agency's offering will focus on advertising solutions, but it plans to select external direct, digital, PR and media partners to handle the delivery of integrated campaigns.
Crouch said: "Rather than pretending to clients that we have all the best resources in London, as so many agencies do these days, we'll be creating a bespoke team for them and then managing the process so they don't have to deal with seven agencies at once."
Audacity has a headcount of ten, including two creative teams, and is recruiting for a planning director.
The venture is Crouch's first since he left Nitro in December 2006, 18 months after Soul was bought and rebranded by the Nitro Group.
Addis had worked with Crouch since joining Soul as the head of new business from Grey London in September 2004.