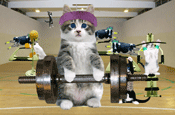 The animated ad, created by Exedra and Chick Smith Trott, features a number of the furry felines in a gym, engaged in various fitness activities from lifting weights to jumping on trampolines.
As the kittens pump iron they sing a Euro-house inspired song, which explains that crusha is "tough enough, to make milk shake".
The animations were produced by Joel Veitch, the animator responsible for award winning website, www.rathergood.com.
Project name:
Sugar Free Crusha
Client:
Tony Lucas, Marketing Director, Silver Spoon
Brief:
Remind the country's kids how great Sugar Free Crusha is.
Creative agency:
Exedra Consultancy and CST
Copywriter:
Elaine Jones
Art director:
Anna Goodyear
Planner:
Exedra Consultancy
Media agency:
Zenith Optimedia
Media planner:
Guy Rogers
Production company:
Tomboy Films
Director:
Joel Veitch
Editor:
Joel Veitch
Post-production:
Prime Focus London
Audio post-production:
Mammoth Music
Exposure:
National TV and online