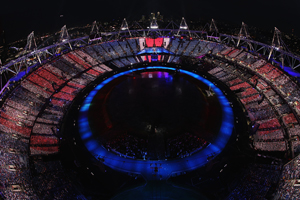 The pixel tablets were attached to the seats in the Olympic Stadium and illuminated the audience with more than 70 minutes of custom animation to complement the action on stage.
A heartbeat pulsed around the stadium during a sequence featuring children in hospital beds, digital flames engulfed the audience to intensify Prodigy's Firestarter track and the section documenting the birth of the internet lit up the audience with the words 'this is for everyone'.
The tablets were designed by Tait Technologies, which recently formed a partnership with Crystal CG. Each tablet was made up of nine pixels arranged in a square, making a total of 634,500 pixels in the audience.
This is the first time the tablets have been used to create such a vast display at an event, using animation specially designed to turn the concave, bowl-shaped stadium into a huge display screen.
Will Case, creative director at Crystal CG, said: "The audience literally became part of the action. No longer limited by large flat screens, we were presented with the challenge of creating animations to bring the stage and the spectators together. We delivered."
He added: "We are witnessing the death of the traditional video screen – this will transform the way event content is presented in future, becoming a more immersive experience."
The project was delivered in 14 weeks using a team of 50 designers, with the first tests carried out on 10 July in the Olympic Stadium.
Crystal CG is the official digital imaging services provider of the 2012 Olympics, and also supplied graphic design services for the Beijing Games and ceremonies in 2008.
What did you think of the ceremony and the pixel tablets? Comment below and let us know.
For more in-depth and print-only features, showcases and interviews with world-leading brands, don't miss the next issue of Event magazine by subscribing here.