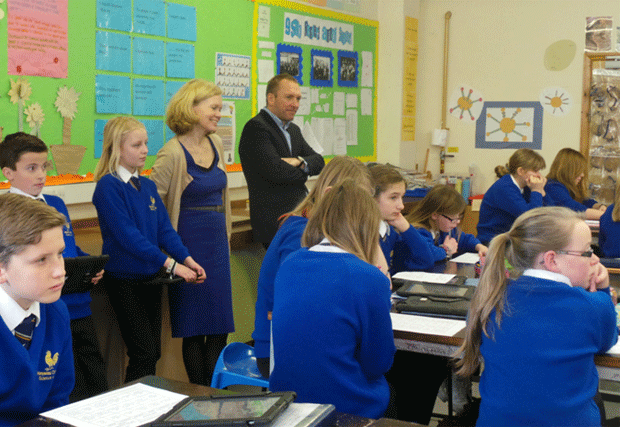 CSR is a must for all businesses now. While the link between sustainable initiatives and cost savings is often clearly made, those programmes focused on wider society can be harder to measure against the bottom line.
For Carphone Warehouse, it appears that the right CSR drive should deliver on both counts. It emerged last week, following a Freedom of Information request by Marketing, that education secretary Michael Gove had met Carphone Warehouse chief executive Andrew Harrison to discuss 'a programme to enable every year seven pupil to have access to a tablet PC in school'.
It is easy to see how this initiative might benefit the brand, the name of which even its chairman, Charles Dunstone, has admitted is problematic. It should further position the company as an authority in the growth area of the market, and generate a bit of emotional warmth in a cut-throat, priceand product-driven category.
The direct commercial benefits to Carphone Warehouse are less clear. Previous initiatives in this area have all tied corporate generosity to consumer spending - Tesco's Computers for Schools, Sainsbury's Active Kids and Morrisons' Let it Grow were all successful loyalty schemes for the retailers as well as community fundraisers. The Carphone Warehouse-backed Tablets for Schools project, on the other hand, appears to contain no such link to revenue, while the Department for Education has stressed the programme's not-for-profit status.
Force for good
In recent times, as consumers' trust in big corporations has waned, there has been a growing sense that companies need to take a purer approach to CSR, rather than see it as a covert cash cow or damage-limitation exercise. In other words, the starting point should be a genuine emphasis on the societal benefits, with any corporate pay-off shunted further down the line. Puma's chief executive recently summed this up as 'Doing more good, not just less bad'.
On this front, Tablets for Schools (which also involves other brands, including TalkTalk and Dixons) has a lot going for it. Although education policy continues to provoke fierce argument, there is general agreement that technology must be one of the drivers of improvement.
So, assuming the scheme improves pupils' performance, it should be seen as an unquestionably 'good thing'. As such, providing that Carphone Warehouse and its shareholders are prepared to be patient, they are likely to be rewarded financially.
These assumptions represent some big ifs, however. The tablets' effect on academic success will depend on a host of factors, all of which are outside the brand's control.
Most obviously, teachers will need to view them as a positive aid, rather than a potential distraction. Perhaps more importantly, pupils themselves will need to embrace the devices, in a constructive way. This will require more creativity than simply handing out some freebies.
A case in point is the award-winning 'Million' campaign, devised for New York City's Department of Education by its agency, Droga5. It involved the distribution of thousands of mobile phones to pupils, but its success rested on a smart set of incentives to use the devices constructively.
Meanwhile, there is the question of whether Carphone Warehouse is genuinely prepared to back its project in the long term. High-street retailers are not known for their far-reaching vision, and while there may be an immediate uplift in sales, thanks to the associated publicity, any significant impact on the company's performance is likely to be more gradual.
The big picture
With the current tough trading conditions almost certain to remain in the short term, will Carphone Warehouse continue to have support across the organisation for its initiative, or will it be seen as a money pit?
The generous view is that, when the full plans are made public, Carphone Warehouse will reveal the creative flair and vision that are necessary for the project's long-term success. As such, Tablets for Schools could form part of a wider revitalisation of the retail chain and generate far greater financial returns as a result.
After all, as Professor Michael Porter has noted, the most successful companies tend to be those that have moved 'social progress (from) the margin of what they do (to) the centre'. Pioneers in this area, such as Waitrose, have long demonstrated the rewards of following this philosophy, while others, such as Unilever, have more recently made it a cornerstone of their strategy.
If Carphone Warehouse can make a similar approach work in its tough market, the brand should be applauded.