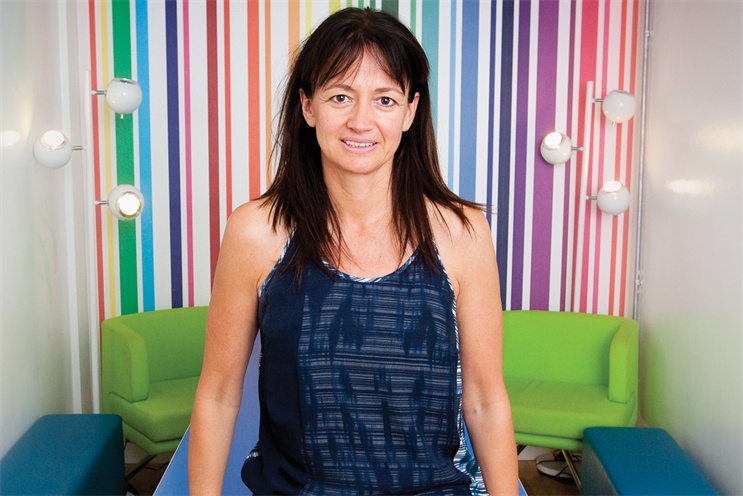 Wednesday mornings could soon become problematic for the7stars. The independent media agency holds a weekly all-staff meeting in its office on Dean Street, but it's becoming an increasingly cosy affair, according to its co-founder Jenny Biggam.
Last year, the7stars' billings grew by 40 per cent to £90 million and staff numbers jumped 38 per cent to 80 people. The headcount has now risen to 89 and will have reached 101 by September.
Biggam launched the7stars in 2005 with fellow ex-Carat senior figures Colin Mills and Mark Jarvis.
Biggam is the client schmoozer while Jarvis is the point of contact for media owners. Mills left in 2008.
The7stars' core business has historically been music and entertainment brands, which still account for about 20 per cent of revenue. But clients such as Suzuki – which it picked up in 2012 – and the £10 million Scottish Power account that it won in June take the shop into new areas.
The story took an unexpected turn in October last year when the agency struck an affiliate deal with Interpublic's IPG Mediabrands to act as the UK arm of BPN, the network's third – and newest – mainstream agency brand.
At the time, Mauricio Sabogal, the global chief executive of BPN, said the tie-up had the potential to "make its mark in the UK industry quite quickly and become a valuable player in the network".
But, since then, it has gone oddly quiet. No new UK business has come out of the deal, and the7stars has not yet pitched under that name. This isn't surprising, Biggam says: "We always knew that BPN was at a really early stage, so this was never about us joining a big, fully established network. We're talking to a few international clients currently, so fingers crossed something will come of that."
BPN is already working with several of the7stars' clients outside of the UK, such as the footwear brand Dune, and the7stars has also worked with Interpublic on projects such as a social media tool and audience data studies.
In reality, the deal may just be a sideshow: Biggam is far more concerned with the7­stars' own development. The inevitable expansion could threaten the agency's prized culture, which led to it being ranked the third best small company to work for in The Sunday Times this year.
Biggam says she is "obsessed" with culture and has made a conscious effort for the agency to have a different atmosphere from the big players. "I don't think you can put too much emphasis on culture: that's what creates the environment for people to stretch themselves, to learn, to develop and do their best work," she says. "We've done some quite crazy things. We've got rid of job titles – it's a very flat structure."
We always knew BPN was at a really early stage, so this was never about us joining a fully established network
The7stars also has no annual-leave system in place (employees take as many days off as they need), has banned unnecessary paperwork, spends an impressive £1,867 per head annually on training and offers £50 "discovery dosh" for activities outside work that broaden staff's horizons, such as – in one case – taxidermy. The first 5 per cent of profits are split equally as a bonus between every employee.
But everyone works hard for these perks: Biggam has never taken a sick day in the nine years of the shop's existence. The7stars' commitment to clients was evident from its "24/7 agency" stunt earlier this year, when Biggam joined colleagues to keep the office open overnight.
Recruiting the right people is key: before her interview with Campaign, Biggam had just spent six hours running group graduate interviews. "Once people start, we give them a lot of autonomy and a lot of responsibility very early on," she explains. "One of the frustrations that people have in some of the bigger agencies is they get quite pigeonholed.
"As well as responsibilities to clients and the team they are in, people have responsibilities across the whole agency, from running our social media channels to the website to new business."
Colleagues describe her as driven and inspirational, and – more importantly, they say – good fun.
Biggam is the chair of this year's Campaign Media Awards and believes accolades offer crucial reflection time in the fast-moving media world. "It's really easy in this environment to always be thinking about the next campaign and the next planning cycle, and not to pause and think about what we've achieved as an industry," she says. "Awards also help to redefine the importance of media planning and media agencies. The media work is the bit that consumers don't see – yet, when it's right, campaigns become very famous."
There is not likely to be much time for leisurely reflection, judging by the7stars' trajectory. Biggam estimates the shop has taken part in more pitches in the past six months than in any other full year previously. "Naturally, as we get bigger, we have more contact with different creative agencies and media owners. Most of our business and pitches come through referrals," she notes.
Whatever happens with BPN, Biggam may still need to get a bigger boardroom.