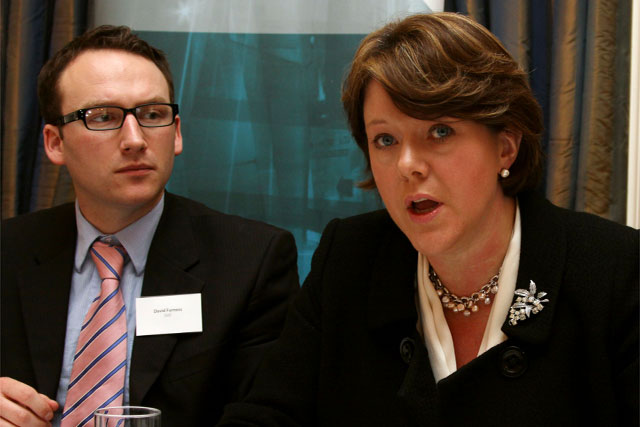 Never before have the communications industries been so well-represented on the higher reaches of power's greasy pole. David Cameron, for instance, was, in a former life, a spin doctor for Carlton Communications and its charismatic boss, Michael Green. So he knows a thing or two about television as well as public relations.
Michael Gove, the Education Secretary, had a promising early stint at The Press and Journal before pulling a shift or two as the deputy editor of The Times as a precursor to his political career.
And there has been relevant expertise, on a day-to-day basis, where it really matters too: since the last election, Ed Vaizey, a former manager of a PR consultancy, has been the Under-Secretary of State at the Department for Culture, Media and Sport, reporting to Jeremy Hunt.
Last week, the department doubled its money as Hunt, who moved on to health in the reshuffle, was replaced by Maria Miller. Miller knows a thing or two about advertising (two spells at Grey: 1985-90 and 1994-99), marketing (at Texaco between her two Grey spells) and PR (The Rowland Company, 1999-2003). She has a thoroughly blue-chip grounding, having worked, while at Grey, for two of the most demanding and stimulating clients in the business, Procter & Gamble and Mars.
Former colleagues from the agency world remember her as being meticulous, well-researched, organised and on top of any brief you could throw at her. They tend, when asked about her personal style, to use phrases such as "buttoned down" - and, indeed, that's the impression that filters through from the political world too.
If the Mayor of London, Boris Johnson, inhabits one end of the political personality spectrum - charismatic, funny, apparently bumbling and playing everything by ear - then Miller is closer to the other end. She won't necessarily be a bundle of laughs when she goes in to bat against Jeremy Paxman on Newsnight - as is eminently likely in the days after the Leveson report is published later this year.
Observers say she knows her own mind, is not easily swayed when she has set course and is not obsessed with trying to please everybody. And that quality of resolve, some say, may come in handy in the weeks and months to come.
And, yes, a large part of the challenge will be related to the continuing fallout from Leveson. But other important issues continue to simmer - and those in the media and advertising worlds will consider themselves well-served if Miller manages to bring a measure of stout common sense to everything that crosses her desk.
1 Advocates of ever-greater state intervention as a universal panacea will almost certainly regard the publication of the Leveson report as an opportunity to call for even more statutory regulation of the media industry. As a consequence, Ofcom could see this as an opportunity for empire-building. Such tendencies will demand deft handling by the new minister.
2 In recent weeks, we've seen renewed calls from medical professionals for a formal ban on fast-food advertising before the 9pm TV watershed. And, of course, it's interesting that Hunt, the new Health Secretary, may now be called upon to liaise with his old department on this. The issue of the marketing of alcohol may also call for a joint response. The industry hopes that ministers continue to understand that consultation and public-private partnerships are the best way forward when it comes to tackling these sorts of health issues.
And the sector will continue to remind ministers that, if they want to nurture the creative industries as part of a wider programme of economic growth, they should think twice before proposing heavy-handed fast-food or alcohol marketing restrictions.
3 The industry is also keen to continue working with the Government to demonstrate that it is serious in its intent with regard to the implementation of recommendations outlined in the Bailey report into the commer-cialisation and sexualisation of children.
4 Aside from the above specifics, industry sources say the sector's concerns chime with those in the broader economy. The communications industry must be allowed flexibility to meet the challenges of an evolving digital economy; and, if growth is to be planned for, individual companies need to be reassured that they will be afforded reasonable opportunities to access capital.
WHAT IT MEANS FOR ...
THE GOVERNMENT
- Hunt's political enemies thought they had him on the ropes for a while over his alleged bias in favour of News Corporation and its interests. If he'd still been at the Department for Culture, Media and Sport come this November, when publication of the Leveson report is expected, that whole issue might have come into play again. Whatever else the reshuffle achieves, it removes that potential distraction.
ADVERTISERS
- ISBA has indicated that it is pleased with Miller's elevation - and is confident in her ability to do the job.
- The IPA president, Nicola Mendelsohn, says: "It's fantastic news to see the Government appointing someone who understands what advertising contributes to the wider economy and how it can act as a catalyst to the wider creative sector. The department is in very good hands and we look forward to working with her."
- Sue Eustace, the director of public affairs at the Advertising Association, agrees: "We're lucky to have, in Maria Miller, a culture secretary who has previous experience working in marketing and advertising. There are not many industries that get to be overseen by a Cabinet member with a background in their area. Advertising gets raised in debates right across Government, so having someone in the Cabinet who understands it will prove valuable."
- She adds: "We're also glad to see Ed Vaizey, who has been a real champion of advertising, keep his role. For instance, he has helped engage Lord McNally at the Ministry of Justice in the data protection debate. With McNally also keeping his job, it is reasonable to expect that this critical work won't be disrupted."