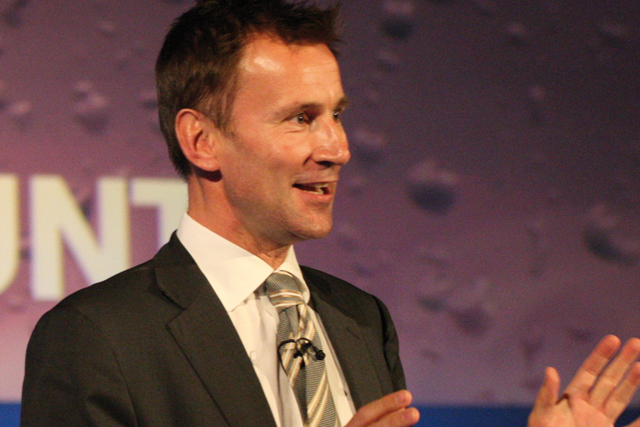 A new Communications Act is expected before the end of this Parliament and the Department for Culture, Media and Sport is currently considering responses to an open letter to the industry, which was published in May.
Giving the keynote speech to the Royal Television Society Cambridge Convention this evening Hunt said he wanted a new Communications Act that would enable the UK's digital and creative industries to grow.
In his outline of what the next Communications Act should contain to the hundreds of assembled TV executives, Hunt said the first priority must be to capitalize on the "extraordinary opportunity" presented by the UK's digital and creative industries.
Hunt said the new Communications Act should enshrine better protection for freedom and plurality, promote growth through stimulating investment in a strong digital infrastructure and protect and encourage investment in intellectual property.
Hunt said: "We need a new framework which is platform-neutral. In an age when consumers are moving freely from platform to platform we should not be restricting media operators from developing products that can follow their customers from TV to internet to smartphone to tablet.
"But by the same merit we should measure their influence based on a sensible aggregation of consumer contact through those different types of media."
Newspapers are currently regulated separately from on-demand websites and IPTV, which Hunt said "cannot be sensible".
He continued: "If British media organisations are to develop world-beating cross-platform offerings, we need to offer sensible cross-platform regulation."
Reports that broadcasting regulator Ofcom would be asked to look at the power of different media groups (including the BBC) were confirmed by Hunt, who said he has asked Ofcom whether it is advisable to set "absolute limits" on news market share.
Hunt also confirmed his desire that mobile phone operators should not hold up the sale of the 4G spectrum through legal action and should "work together in their common – and our national – interest to make [4G] happen".
Google has already criticised Hunt's plans to ask search engines and ISPs to take "reasonable steps" to make it harder to access sites that a court has deemed contain unlawful content or promote unlawful distribution of content.
Hunt said the Communications Act should be "bold" because though it would be easy to be cautious, with technology developing rapidly, consumer behaviour shifting and the world economy suffering, caution would be the "most dangerous thing".
Hunt also touched on the subject of his handling of media giant News Corporation's proposed and eventually aborted takeover of UK satellite operator BSkyB.
He was criticised by some groups for favouring News Corp by giving it the chance to avoid a referral to the Competition Commission in return for undertaking to spin off Sky News.
Tonight Hunt acknowledged what he called concern over his motives and said it was reasonable to ask if it is appropriate for politicians to have the final say when there are "contentious public interest issues at stake".