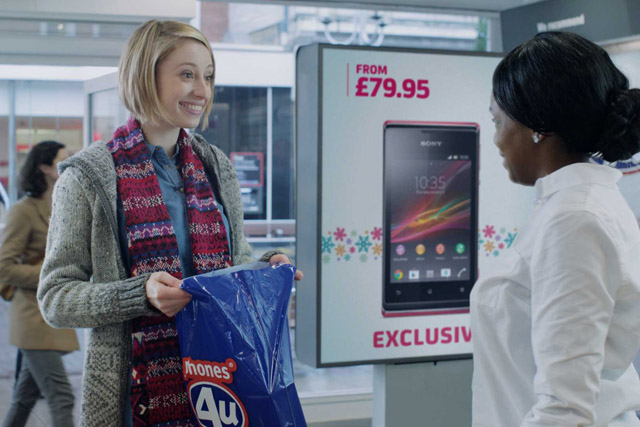 The four 30-second ads, created by Adam & Eve DDB, feature a narrative voiceover by comedian David Mitchell. They depict a variety of scenarios highlighting the free gifts Phones4U customers can receive alongside a purchase.
In the execution breaking tonight, a character called Lucy makes amends for her lack of generosity last Christmas. "Last year, Lucy gave her dog groomer a Christmas card with no money in it," Mitchell's voice tells viewers as a bearded dog groomer looks disapprovingly at Lucy.
"This year Lucy got a PlayStation 4 with her 'Everyone's a Winner' scratch-card that came with the Sony Experia E in red on pay-as-you-go. She gave the PlayStation to her dog groomer. He really liked it, and wanted to do something special just for her."
Lucy is seen walking her dog in the park. Its hair has been dyed green and it has been groomed to resemble a strange mythical-style creature with dragon-like appendages.
Examples of gifts include a free wireless speaker worth £120 with any 4G contract. Pay-as-you-go customers get free scratch-cards, with prizes such as a Sony or Samsung TV or tickets to events at VIP Phones4U Arena Manchester.
The TV work is supported by print, social media and in-store activity.
Caspar Nelson, Phones4U's head of brand communications, said: "The new campaign builds on our continued drive to offer our customers an extensive range of mobile phone and gifting offers, allowing them to treat themselves or others during the Christmas period.
"It also allows us to continue to position Phones4U as the top mobile retail destination on the high street this festive season."