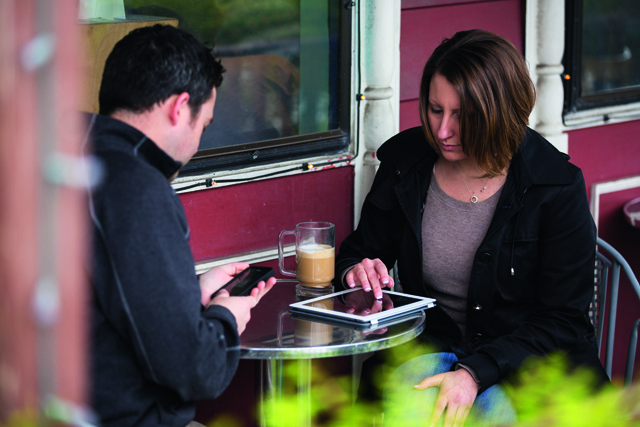 In business, social media can mean many things to many people. For some it's a direct sales channel, for others it's little more than a broadcast method for company news. Some marketers are happy for it to remain outside their core area of control, while others argue passionately for it to be front and centre of each and every marketing campaign.
The fact is, social media can and should have an impact across an entire business. The good news is that few companies dispute the need to have a social-media presence and strategy. The bad news is that many fail to understand the ROI that a well planned and executed social-media programme can deliver. By keeping social in a silo, brands miss out on the deep insights that social data can provide, and risk giving customers very different brand experiences when they move from channel to channel.
It amazes me how quickly social media has become an integral part in just about everyone's lives. Only recently, eMarketer revealed that social networking reaches nearly one in four around the world, and our own research found two-thirds of people in the UK have used social media. It's how we choose to communicate with family and friends, share our thoughts and ideas, and, increasingly, how we engage with brands. From retailers to manufacturers and hotels to banks, the likes of Facebook and Twitter provide a convenient channel to stay up to date with offers and news, as well as a way to provide feedback, both positive and negative.
Indeed, Adobe research shows nearly half (44%) of Brits have liked something on behalf of a brand and 49% regularly "like" brands they buy. The reasons people "like" brands or products is to share their tastes and interests with the world (52%) and recommend products (40%).
Strides in consumer technology, particularly mobile, have also meant that stakeholders can access social media on the move via their smartphone or tablet. Such developments have meant marketers are facing more and more challenges as dissatisfaction with a product or service can be voiced instantly, but, as we know, social media is anything but one-sided. Brands now have the opportunity to reach millions of potential customers, many of whom may have once been out of their grasp.
Sky Bet adopts Adobe
Sky Bet used Adobe Social and Adobe Analytics, solutions within Adobe Marketing Cloud.
Capabilities used include:
- Global page management and workflow
- Listening and moderation
- Targeting publishing
- Application builder
- Advertising management and optimisation
- Marketing reports and analytics
- Adobe Consulting
Results
- Gained ability to respond to social media, identify trends and tailor content based on data
- Standardised platform streamline social-media management and monitoring to improve profitability
Consumers have high expectations from brands attempting to engage with them on social channels.
Get it right and the results can be spectacular. Get it wrong and the results can be just as spectacular, but in a very different direction. Once launched, social-media campaigns can be notoriously hard to control, and proving ROI is equally challenging.
Now, thanks to advanced social-marketing tools, managing these campaigns is a far simpler task. With real-time data at your fingertips, marketers can make small or dramatic changes mid-way through social campaigns based on accurate information. Is your campaign driving traffic to your site? Is it attracting new customers? With the right tools in place you don't have to wait to find out.
Betting on Adobe
Increasing competition and changing customer behav­iours prompted Sky Bet, one of Sky Betting and Gaming's (part of BSkyB Group) core brands, to elevate the use of social media throughout its digital marketing and content strategy.
In a bid to engage better with existing customers and attract new ones while minimising the cost and complexity of developing and delivering social-media content, they turned to Adobe Marketing Cloud to help drive revenues through social media.
Adobe Social and Adobe Analytics are two solutions within Adobe Marketing Cloud. They help marketers with real-time social-media measurement and streamline the evaluation of which types of social content drive conversion and improve audience engagement.
How Sky Bet built effective online customer relationships
Using Adobe Social integrated with Adobe Analytics, Sky Bet was able to drive revenue through timely delivery of targeted, high-impact social campaigns. Indeed, because data collected by Adobe Marketing Cloud delivers fast, actionable insights, Sky Bet can identify and categ­orise the social posts most effective at driving actions, such as "likes", shares, comments, click-throughs and stakes.
Catherine Daniel, head of social media at Sky Bet, said: "We've seen a big jump in our click-through rate and a big drop in the cost per new acquisition. Because Adobe Social has freed up a lot of time, we've been able to focus more on content quality and eliminate what doesn't work."
The tools also help Sky Bet identify people talking about betting and those that are thinking about opening an account. In turn they can engage with them and serve up offers – a previously labour-intensive process.
Daniel adds: "The Adobe tools have helped us from a logistical point of view. The interaction data collected has been used to justify the need for additional resources and focus, particularly in social customer service."
Sky Bet also uses Adobe Social to streamline all modera­tion, publishing, and responding on its social properties, which saves time and enables the effective optimisation of campaigns.
---
To find out more on how Adobe Marketing Cloud can help your business make the most of its social campaigns, please visit us at www.adobe.com/uk/ or www.adobe.com/solutions/socialmarketing/social-publishing-adsand, or on Twitter @AdobeMktgCloud.