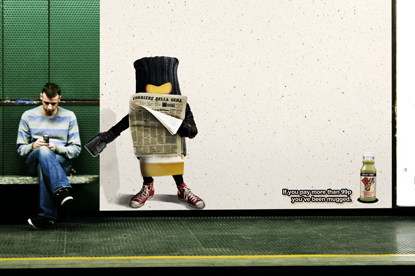 More than 170 judges – making up 26 juries – ploughed through 3,000 entries to put forward 100 student teams from Europe, the US and Asia, with work for brands including Lloyds TSB, the BBC, the Science Museum and PJ Smoothies making the cut.
The UK's Central Saint Martins College of Art and Design ended up with the most nominations, with 11, while Berghs School of Communication in Sweden notched up seven and the University of Gloucestershire and Miami Ad School Madrid tied with five nominations each.
Greg Quinton, the D&AD Education chairman, said: "Student Awards work was judged with the professional Awards this year, and frankly it was difficult to tell the two apart – a testament to the quality of the work submitted. The creative standard is simply brilliant this year. Answering a Student Awards brief is a big challenge and the judging (like all things D&AD) is of the highest standard possible."
Nominated work will be showcased at D&AD New Blood on 26-29 June at the National Hall in Kensington Olympia in London. The winners will be announced on 2 July at the Student Awards Ceremony at King's Place, London, and online on 3 July.