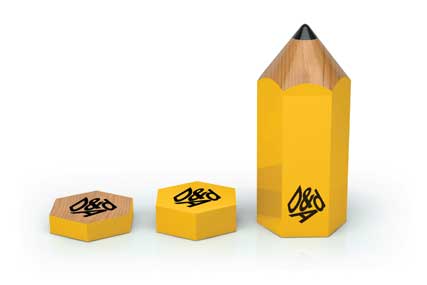 The new trophies will be officially unveiled at the D&AD Awards Night on 16 June as a way of rewarding those mentioned in the D&AD Annual who have not been awarded full yellow or black Pencils.
D&AD's "slices" have been designed by Turner Duckworth and are based on the main yellow Pencil awards.
Last month, D&AD also announced the launch of the white Pencil award to recognise creative communications that "truly make a difference to the world".
The white Pencil will be introduced next year to coincide with the organisation's 50th anniversary, and will challenge agencies to tackle a brief that helps raise awareness of a specially selected charity.
Simon Sankarayya, the president of D&AD, said: "For many years, we have endeavoured to communicate more effectively the value of winning at any level in the D&AD Awards and the slices will undoubtedly help to build awareness of the great level of creativity that it takes to be recognised by our juries."
Bruce Duckworth, the Turner Duckworth founder, said: "The challenge was to create awards that recognise the 'in book' and 'nominated' achievements, that have stature, relate to D&AD but are not another Pencil."