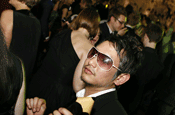 After receiving damning feedback from those who attended the awards about the levels of staffing at the bar and the lack of food, Simon Waterfall, the president of D&AD, has written to guests to say it will refund money to those who attended.
Waterfall said in the letter: "We hope you will appreciate the disappointment that we feel. This has left us with a terrible sense of frustration and anger."
This year's Awards were held at the Royal Festival Hall on 15 May. There were complaints about bar service and food, after a switch this year from a sit-down meal to a more informal arrangement.