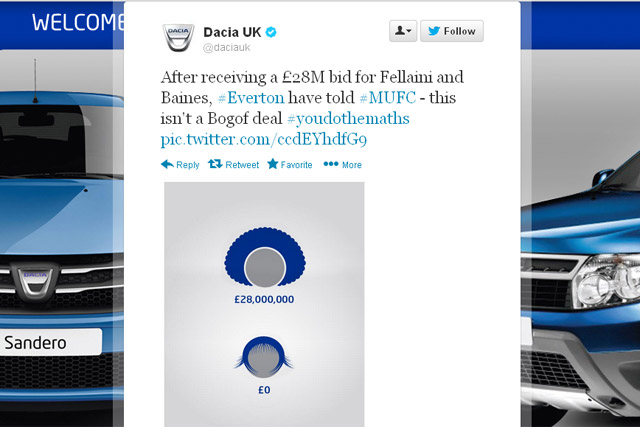 The Renault-owned discount car brand, which launched in the UK in January, has been tweeting about potential player transfers ahead of the 2 September "deadline day" using the hashtag #youdothemaths.
The activity, by Publicis UK, has addressed Tottenham Hotspur star Gareth Bale's much-rumoured £93m record transfer to Real Madrid, as well as Manchester United's bid for Everton players Leighton Baines and Marouane Fellaini.
It ties in with Dacia's ongoing 'You Do the Maths' campaign, which looks to raise awareness of its vehicle prices. The marque's cheapest model costs £5,995.
Jason Cobbold, deputy managing director at Publicis, said: "We want to spread the word in an amusing and conversational way, encouraging debate and discussion around what is 'good value'. The football transfer window is the beginning of this journey."
Dacia sold over 8,000 vehicles in the UK to the end of July, according to the SMMT, with a market share of 0.6%, compared with Renault's 22,000 new car registrations and 1.7% share of the market so far in 2013.
#THFC could break their transfer record four times during the window – amazing what you can do if you sell a certain Welshman.#youdothemaths

— Dacia UK (@daciauk) August 22, 2013
After receiving a £28M bid for Fellaini and Baines, #Everton have told #MUFC - this isn't a Bogof deal #youdothemaths pic.twitter.com/ccdEYhdfG9

— Dacia UK (@daciauk) August 21, 2013
Southampton have done well to sign Johnny Depp for just £12.9m. #Osvaldo #SaintsFC http://t.co/pzbeAX5k8x #youdothemaths
— Dacia UK (@daciauk)
August 20, 2013
Rickie Lambert - 220 club goals & 1 for England. He cost £1.5m in his career. Beat that for value? #youdothemaths pic.twitter.com/uAudPXjDcD

— Dacia UK (@daciauk) August 19, 2013