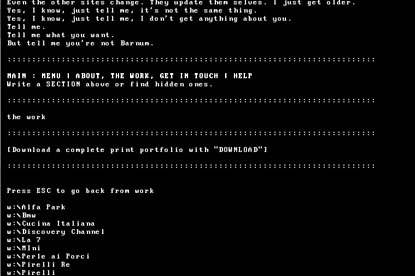 Ditching clever flash animations, the website requires the user to type in commands in order to navigate around the website.

The site www.dlvbbdo.com, deems itself a freakish oddity, with the text: "Please tell me that you're not Barnum.

"Tell me you're not Barnum or one of his boys come to get me and put me in the circus. After the Bearded Lady and the Elephant Man, here's a site that's getting Old."

A list of options from 'Menu' to 'The Work' are then listed and users are asked to write in a command to navigate to one of the sections.