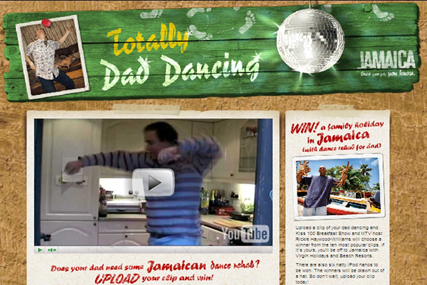 Created by DraftFCB, the work aims to promote Jamaica's reputation as the home of reggae and captivating rhythms, in an attempt to lure younger holidaymakers to the island.
The campaign centres around a competition, called 'Totally Dad Dancing', which gives families the chance to win a holiday to Negril Jamaica Beaches, where the Dad will be able to participate in a "dance rehabilitation" course.
To stand a chance of winning, children are being asked to upload a short video of their Dad dancing to a dedicated website, Totallydaddancing.com. The most cringe-worthy performance will be selected for the top prize.
Videos will also appear on YouTube and entrants are being encouraged to share their videos on social networking sites. Users can follow the campaign on Twitter and a Facebook page.
The work targets children directly following research that shows that teenagers play a huge part in influencing where their family goes on holiday.