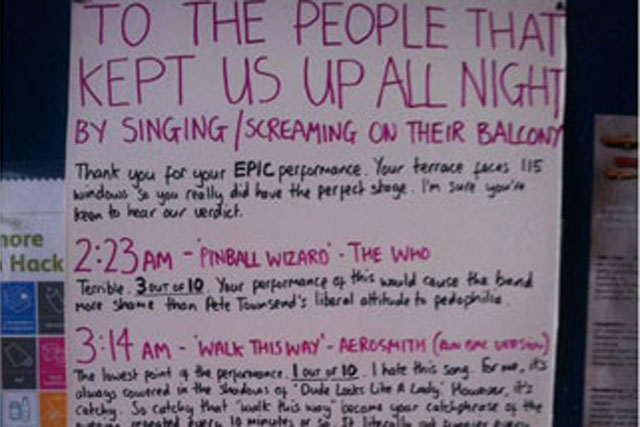 This time Beale has complained via Twitter about his annoying warbling neighbours in Hackney who decided to hit the karaoke deck until the early hours of Sunday morning – no doubt after a weekend of watching 'The X Factor'.
Beale drew up a poster-size review board to shame his neighbours, which included the times, names of the songs and marks out of 10 for each performance. He then pinned it up in his communal block of flats.
The poster read, "To the people that kept us up all night by singing/screaming on their balcony. Thank you for your EPIC performance. Your terrace faces 115 windows so you really did have the perfect stage. I'm sure you're keen to hear our verdict."
Beale's Simon Cowell-esque critique included; "Your performance of this would cause the band more shame than Pete Townsend's liberal attitude to paedophilia", as well as "if you're going to be woken up after two hours of sleep, it might as well be to a herd of morons screaming 'Tiny Dancer'."
The last review at 9.10 am reads, "You gestured to the beautiful sunny morning and gave a little smile that said to the world, 'yep we absolutely nailed that.' I hate you."
Cowell, Meldrew or perhaps more Jimmy Carr? You decide.
If you have a Daily Diary story please email sara.kimberley@haymarket.com