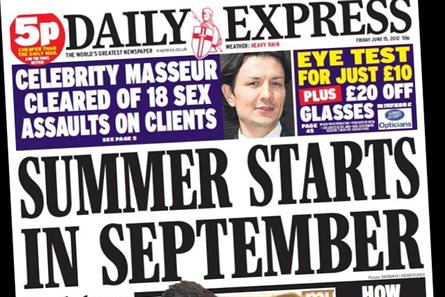 The average monthly print readership of the Northern & Shell-owned tabloid was an estimated 777,000 in the year to the end of 2015, figures showed - down 28 per cent from 1.079 million the previous year.
Taking into account digital and mobile platforms, the Express's estimated monthly readership grew by 66.8 per cent to 11.41 million year-on-year.
Across print, PC and mobile, the average monthly readership for all newsbrands is estimated to be up 5 per cent to 47.26 million. Meanwhile, magazines' monthly readership across platforms was virtually unchanged (up 0.4 per cent to 38.04 million).
For the combined print, digital and mobile measure, the Daily Mail is the most-read newsbrand, with 28.87 million estimated monthly readers; up 23.1 per cent on 2014.
The Mail was followed by the Daily Telegraph (up 60.6 per cent to 26.27 million); the Daily Mirror (up 49.4 per cent to 26.12 million); and The Guardian (up 51.5 per cent to 24.71 million).
The Guardian was the only daily newspaper to show an increase in print readership, up 8.8 per cent to 814,000 in 2015.
All other dailies fell year-on-year for print, with the next biggest falls after the Daily Express at the Daily Star (down 20 per cent to 808,000) and the Daily Mirror (down 19 per cent to 1.85 million).
The Sun remains the most well read daily tabloid with a monthly readership of 4.45 million for print, although that was a decrease of 16 per cent year-on-year, while the Daily Telegraph is still the most well read quality daily newspaper in print at 1.17 million (a 2.3 per cent year on year decline).
The Sunday newspaper print market showed a similar picture, with only The Independent on Sunday showing any year-on-year increase in readership (up 2.4 per cent to 380,000). Earlier this month, ESI Media announced that The Independent and The Independent on Sunday would close their print editions and become digital-only in March.
The biggest fallers in the Sunday print market were the Sunday Mirror (down 23.9 per cent to 1.87 million); and Trinity Mirror stablemate the Sunday People (down 23 per cent to 526,000).
Unlike figures from the Audit Bureau of Circulations, which track sales and distribution performance, Pamco surveys around 30,000 people to produce a national readership estimate.
Pamco's survey also showed that 74 per cent of adults in Britain now consume newsbrand content via a computer or handheld device. Magazine content is read by 41 per cent of adults.
For magazines, digital is driving an increase in readership of 21.4 per cent each month. This figure rises to 33.6 per cent for newsbrands.

Simon Redican, the chief executive of Pamco, said: "People's appetite for content has never been bigger. Where there is a challenge in the industry is about monetising that audience."

He added: "Print is still powerful for uniting large numbers of people but consumer behaviour is changing, and publishers understand that they need to make their content available where the audience is."