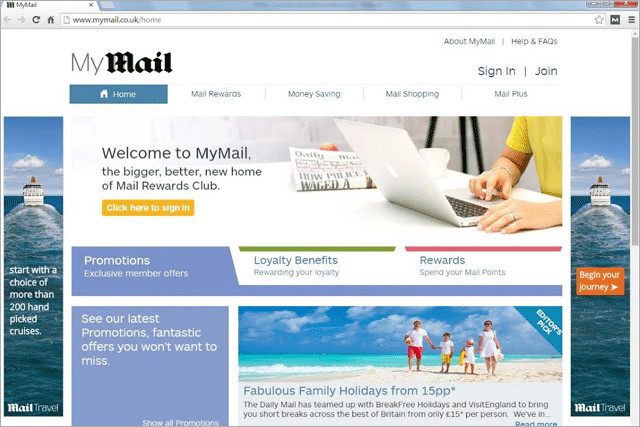 The launch of MyMail is aligned with the expansion of the publisher's loyalty programme, Mail Rewards Club, which will now also include offers from Amazon and iTunes.
My Rewards already has a database of 900,000 Mail customers. Each day 300,000 enter their Unique Numbers from the paper to benefit from discounts on products and offers.
In the coming months, MyMail will build on this and also host e-commerce shopping sites for travel, home and garden and financial services.
The new initiative was announced to agency and advertisers at a breakfast hosted by chief executive Kevin Beatty in London's Century Club today.
MyMail will also become the place for customers to sign up for the tablet edition of Mail Plus and its beauty box subscription service, You Beauty Discovery.
In addition, the Mail will also be introducing a new two tiered membership scheme to reward the Mail's most loyal consumers, Gold Members and Members, which includes benefits such as unlimited 2 for 1 cinema tickets for all the blockbuster movies and free membership to the 2 for 1 dining club, Tastecard.
Mail Newspapers intends to use the new data gleaned from its readers turned customers to better inform advertisers and agencies about individual buying preferences, purchases and demographic, resulting in increasingly targeted offers and information.
Roland Agambar, chief marketing officer, said: "The Mail already achieves an unrivalled audience reach. In a world where data and targeted marketing are so vital, the extension of Mail Rewards Club into MyMail increases our ability to develop a far deeper relationship with our readers.
"We will know far more about our members and by using this data we can ensure we offer them relevant products and services which can be used both to the benefit of the customer and to our business partners."
Partnership opportunities within MyMail include targeted promotional offers, on-site advertising, targeted email and CRM offers, as well as on-going partnerships and affiliate deals.
Rosemary Gorman, group display advertisement director at Mail Advertising, said: "The launch of MyMail provides our advertising partners with a unique opportunity to engage our readers within the trusted environment of the newspaper's loyalty programme.
"We are working hard to build products which continue to delight and engage our readers and widen the communications opportunities for brands."