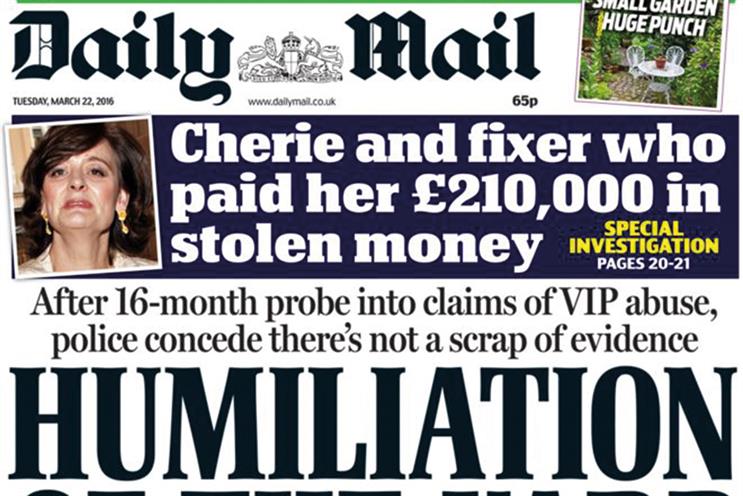 Daily Mail & General Trust's total advertising revenues for the Mail businesses continued to decline on an underlying basis by 4% to £326m – matching last year's 4% decline – with print down 12% and digital up 17% in the year to 30 September 2016.
DMG Media, the division which publishes the group's newspapers, reported a 3% revenue fall for the Daily Mail and the The Mail on Sunday to £484m. Revenue at MailOnline, the newspapers' companion website, was up 28% to £93m.
Circulation revenues increased by 1% to £315m, which DMGT said was helped because its financial year was 53 weeks' long, as well as cover price increases. which more than offset he decline in circulation volumes of the Mail and The Mail on Sunday. Excluding the extra week, circulation revenues declined by an underlying 1%.
Meanwhile revenue at Metro, the freesheet which is run separately from the Mail titles, was £65m – down 7% from 2015.
The B2B arm, which includes Euromoney, saw underlying revenue fall by 5% and reported revenue up 9% to £1.21bn. Underlying profit was down 5% (or up 4% on a reported basis to 215m).
Paul Zwillenberg, DMGT's chief executive, said: "DMGT's results reflect the ongoing resilience of the portfolio through varying market conditions. Revenues were supported by good organic growth in many of our B2B and consumer digital operations. This was balanced by challenging market conditions for print advertising, property information, energy and financial sectors.
"Our focus has been on prudent financial and strategic management of DMGT's diversified portfolio. We have continued to invest in long-term growth opportunities across a variety of organic initiatives whilst making small bolt-on acquisitions, maintaining a strong balance sheet and continuing to deliver real dividend growth for our shareholders."