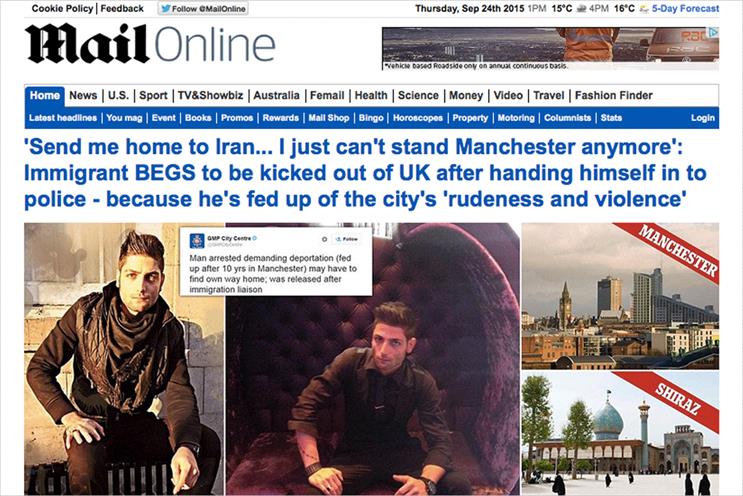 In a trading update for 11 months up to the end of August, the DMGT Trust's revenues fell by 1 per cent, with a 4 per cent fall at DMG Media, the division that includes DMGT's flagship newspapers.
Last year DGMT posted pretax profits of £291 million, a 9 per cent increase on 2013, with revenue at £1.86 billion, a 3 per cent increase compared to the previous year.
For 2015, it reported underlying advertising revenues were down 1 per cent at DMG Media compared with last year, while newspaper ad revenue was down 9 per cent. Underlying revenues across the group were down by 5 per cent.
Print advertising revenue at The Daily Mail and The Mail on Sunday shrank by 11 per cent, or £19 million, over the 11-month period to August 2015. In 2014 the papers reported a 5 per cent fall in print revenue, to £536 million.
MailOnline, the Mail's companion website, grew its digital revenue by 16 per cent, or £9 million, significantly lower than the 41 per cent revenue growth it achieved in 2014.
The website grew its audience by 21 per cent over the 11 months up to the end of August when it attracted 218 million unique visits.
Online income across its digital offering, including its discount and voucher brand Wowcher, increased by 29 per cent. DMGT said Wowcher now has a database of 8.1 million subscribers, 36 per cent more than in August 2014.
Its B2B publications arm, which includes Euromoney, reported a 4 per cent increase year on year. Euromoney is listed separately but DMGT holds a 68 per cent stake in the business.