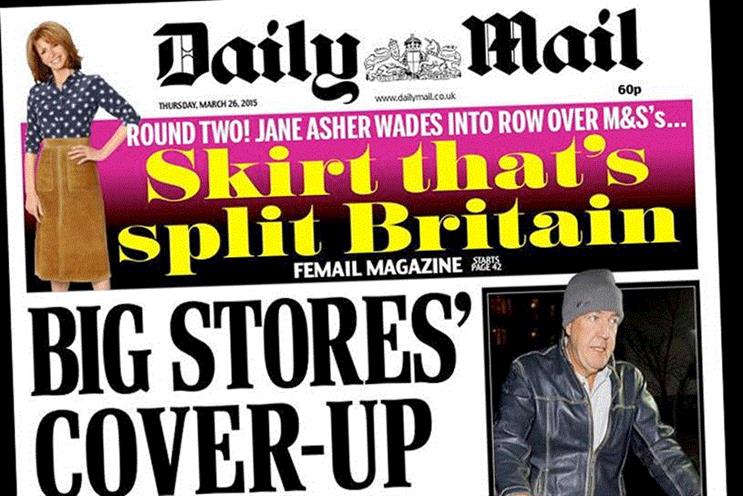 ISBA, the trade body for advertisers, told Campaign it welcomed DMGT's disclosure as "an important development in the 'transparency' story" because "many senior media agency figures continue to deny" they accept such payments from media owners.
DMGT said in its annual results that its consumer publishing arm, DMG Media, generated advertising revenues of £317m in the year to September 2016.
That suggests it was paying an estimated 6.6% back to agencies, based on rebate payments of £20.9m.
It is the second year that DMGT has disclosed it has paid rebates in its accounts, which are audited by PwC.
Campaign revealed last December that the publisher set aside £25.6m in rebates in the previous financial year – equivalent to about 7% of its advertising sales of £351m in that year.
It remains highly unusual for a publisher to disclose how much it pays agencies in rebates, even though it is an open secret in parts of the media industry.
In the last year, rebates have become a major issue with advertisers, led by ISBA and its American counterpart, the ANA, accusing agencies of a lack of transparency.
Guardian Media Group, which also uses PwC as its auditor, disclosed for the first time in its 2016 annual report that it paid rebates but gave no financial details.
Rebates are considered common practice in the UK but generally frowned upon in the US, where MailOnline and The Guardian have been expanding.
A DMG Media spokesman declined to comment on its latest disclosure.
Mark Finney, director of media and advertising at ISBA, said: "The disclosure of rebates by some media owners such as DMG Media and Guardian Media Group is an important development in the 'transparency' story and I'm sure others will follow suit.
"This evidence of the routine practice of rebating agencies will come as no surprise to anyone working in the media world, but what is surprising is that many senior agency figures continue to deny it applies to them or that their clients are unaffected by it.
"We are on a journey of significant change in our industry and this is a helpful step along the way."
One media agency source maintained it always told clients about any rebates that it received and always passed them back wherever it was appropriate under the terms of their contract.
The DMGT accounts explained: "The DMG Media segment enters into agreements with advertising agencies and certain clients, which are subject to a minimum spend and typically include a commitment to deliver rebates to the agency or client based on the level of agency spend over the contract period.
"These rebates can take the form of free advertising space, cash payments or both. The rebate provision is calculated using the forecast spend over the contract period and rebate entitlement is set out in the trading agreement."