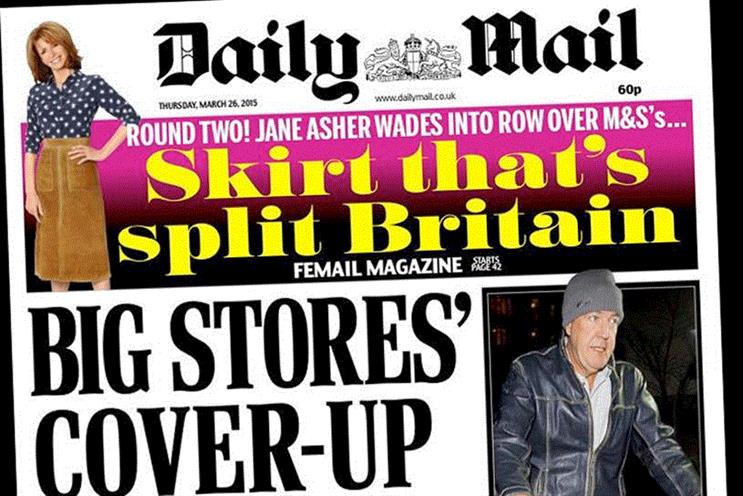 The owner of the Daily Mail has reported a significant worsening in ad revenue in recent weeks and has today said "headcount reductions" will be made.
To cover the cost of redundancies, DMGT said it will set aside £50m this year, rather than the £15m it was already earmarking for restructuring costs in May.
In a trading update, DMGT said ad revenue at publishing division DMG Media had declined by 10% year on year in the third quarter of 2016.
This compares to ad revenue being down 4% for the year to date on an underlying basis, with a 12% decline in print advertising being partly offset by 17% growth in digital revenue.
But, for the five weeks since 21 August, DMGT said total ad revenue for the business shrunk by 10% on an underlying basis.
The company issued a profit warning in its last trading update after reporting a 13% slump in print ad revenue for the first six months of the year.
The UK national newspaper market has faced a worsening in print ad revenue since the vote to leave the European Union on 23 June, with overall revenues plummeting by 18% in August.
There is now the possibility of rival newspaper groups collaborating to pool their advertising sales.
News UK, Trinity Mirror, Telegraph Media Group, Guardian Media Group, DMGT and Northern & Shell have been in talks since at least May, when Campaign first reported that discussions had begun.
In today's trading update, DMGT said: "Given the challenging market conditions facing certain businesses within the portfolio, reorganisation initiatives are being implemented to protect their profitability.
"These initiatives will create a greater strategic focus and enable more effective decision making across the group, with the aim of generating future benefits and opportunities for long-term growth. The reorganisation initiatives, which include headcount reductions, are expected to result in total cash-related exceptional operating costs in the current financial year of approximately £50m, rather than the £15m previously guided to in May 2016."