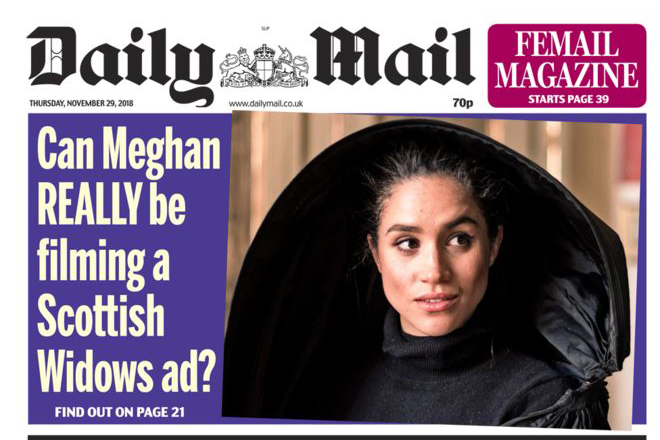 The Daily Mail brought in more advertising revenue from online than print for the first time this year.
MailOnline's ad sales rose 5% to £122m and print ad revenues from the Daily Mail and Mail on Sunday fell 9% to £117m in the year to September 2018.
Total ad revenues for Mail titles dropped 3% to £239m, "reflecting the continued structural and competitive challenges facing the UK national newspaper advertising market", the company said.
MailOnline, which has no paywall, suffered from a 13% fall in daily unique browsers to 12.9 million because of a drop in indirect traffic via search and social platforms.
However, time spent on the site was up 2% – something that parent company DMG Media said showed "growing engagement with its core target audience".
The Mail titles saw turnover fall 5% to £546m as print circulation revenues also dropped.
Metro, which reports its number separately, said revenues rose 4% to £71m as it increased scale, thanks to picking up several local franchises from Daily Mirror owner Reach.
Daily Mail and Metro combined their ad sales teams earlier this year to form Mail Metro Media.
DMG Media said operating margin fell from 11% last year to 10% this year and warned that it will fall again in 2019 to "the high single digits", despite an increase in print coverprice for the Daily Mail.
The publisher said continued revenue decline, increased newsprint costs and investment in DailyMailTV in the US would push down profits, although it expects to make cost efficiencies and for MailOnline to keep growing.