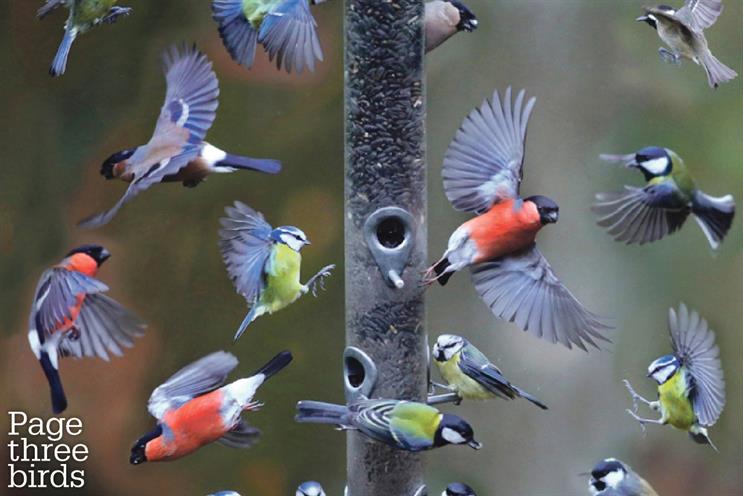 It was widely reported earlier this week that The Sun had attempted to quietly stop publishing topless women in its Page 3 feature at the end of last week. However, yesterday the paper brought the feature back.
In a playful move, The Sun's rival the Daily Mirror is publishing a photograph of a range of different tits, including blue tits, great tits and coal tits, on its page three tomorrow.
In a statement the Daily Mirror said it has a "special page three treat for readers tomorrow – not just one pair of tits, but a whole montage!"
The picture was taken at Stover Country Park in Devon to promote the Royal Society of the Protection of Birds Big Garden Birdwatch this weekend.
As part of the weekend of activities there are events across the country and the RSPB wants people to help with its survey by identifying the birds that visit their garden over a single hour.
A front-page trail for the return of Page 3 said: "We've had a mammary lapse." And inside the paper under a clarifications and corrections banner was a photograph of Nicole, 22, from Bournemouth.
The Sun said: "We would like to apologise on behalf of the print and broadcast journalists who have spent the last two days talking and writing about us."
Dylan Sharpe, the head of PR at The Sun, came under fire for tweeting a montage Nicole's winking face to the shadow culture secretary, Harriet Harman, Sky News presenter Kay Burley and media commentator Steve Hewlett, among others.
This one's for @lucymanning, @GreensladeR, @KayBurley, @steve_hewlett, @HarrietHarman and many, many others... pic.twitter.com/eJzgcLWGU1

— Dylan Sharpe (@dylsharpe) January 22, 2015